Dear Commons Community,
Kouri Richins, the author of Are You With Me?, said her husband, Eric Richins, died unexpectedly after drinking a cocktail. Authorities now believe he was poisoned and Kouri Richins,  who wrote the children's book on grief following her husband's death last year, is now accused of his murder.
Kouri Richins, 33, was charged Monday in Summit County, Utah, with aggravated murder and three counts of possession of a controlled substance with intent to distribute.
The mother of three claimed to have found her husband, Eric, lying unresponsive in their bedroom on March 4, 2022, after he consumed a drink she made, according to court documents cited by local stations KSLTV and KUTV.
"She felt Eric, and he was cold to the touch. That is when the defendant called 911," the documents state.
According to prosecutors, Kouri Richins said she had served her husband a Moscow mule to celebrate the closing of a house for her real estate business in Kamas, just east of Salt Lake City. She then went to care for one of their children in a separate room and ended up falling asleep there. When she returned to her own room at roughly 3 a.m., Eric Richins was unresponsive and she called 911.
Kouri Richins told investigators that her husband died at their home last year after she made him a Moscow mule (like the one pictured).
An autopsy later determined that Eric Richins died from orally consuming about five times the lethal dosage of fentanyl, according to court documents.
Kouri Richins' electronic devices were later searched with a warrant. According to prosecutors, this revealed that she had been on her phone in her child's room at the time of Eric Richins' death — contradicting her claim that she had left it in their shared bedroom. She is also accused of deleting text messages that she had sent and received during those hours.
The search further showed that she had allegedly been in contact with an acquaintance who had prior drug charges. That unidentified individual, in a later interview with detectives, said that they sold prescription pain medication to Kouri Richins several times in the weeks before her husband's death.
The person said that two weeks after an initial purchase, Kouri Richins reached out again to request something stronger. She asked for "some of the Michael Jackson stuff," specifically fentanyl, according to court documents.
The person said they supplied her with 15 to 30 fentanyl pills in February 2022. That same month, Eric Richins fell ill after a Valentine's Day dinner at their home. He told a friend that he thought his wife had poisoned him, authorities said.
Kouri Richins' acquaintance told detectives that she later reached out again to request more fentanyl pills. Her husband would end up dead a few days after she allegedly purchased them.
Last month, the widow described her husband's death as totally unexpected.
"It completely took us all by shock," she said at the time during a TV interview promoting her self-published book. "Are You With Me?" — written with her sons — features a cover drawing of an angel resembling Eric Richins who appears to cheer on a little boy.
"It's just comforting to them to know that they're not living this life alone," she said of her children. "Dad is still here. It's just in a different way."
Unbelievable that there are such people in this world!
Tony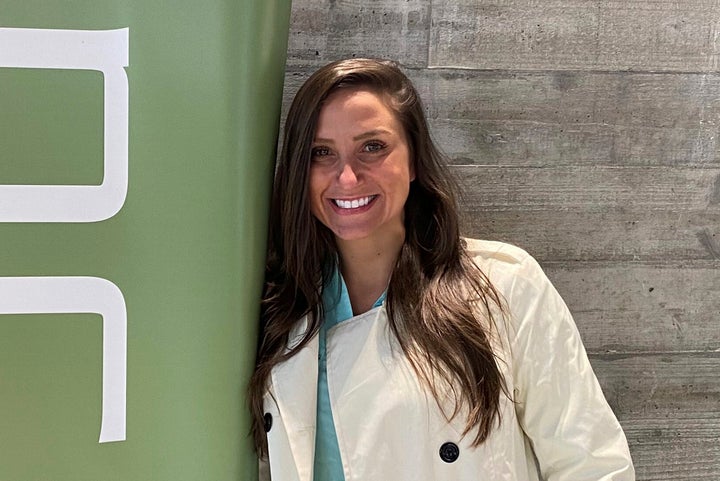 Kouri Richins. KPCW.org via AP