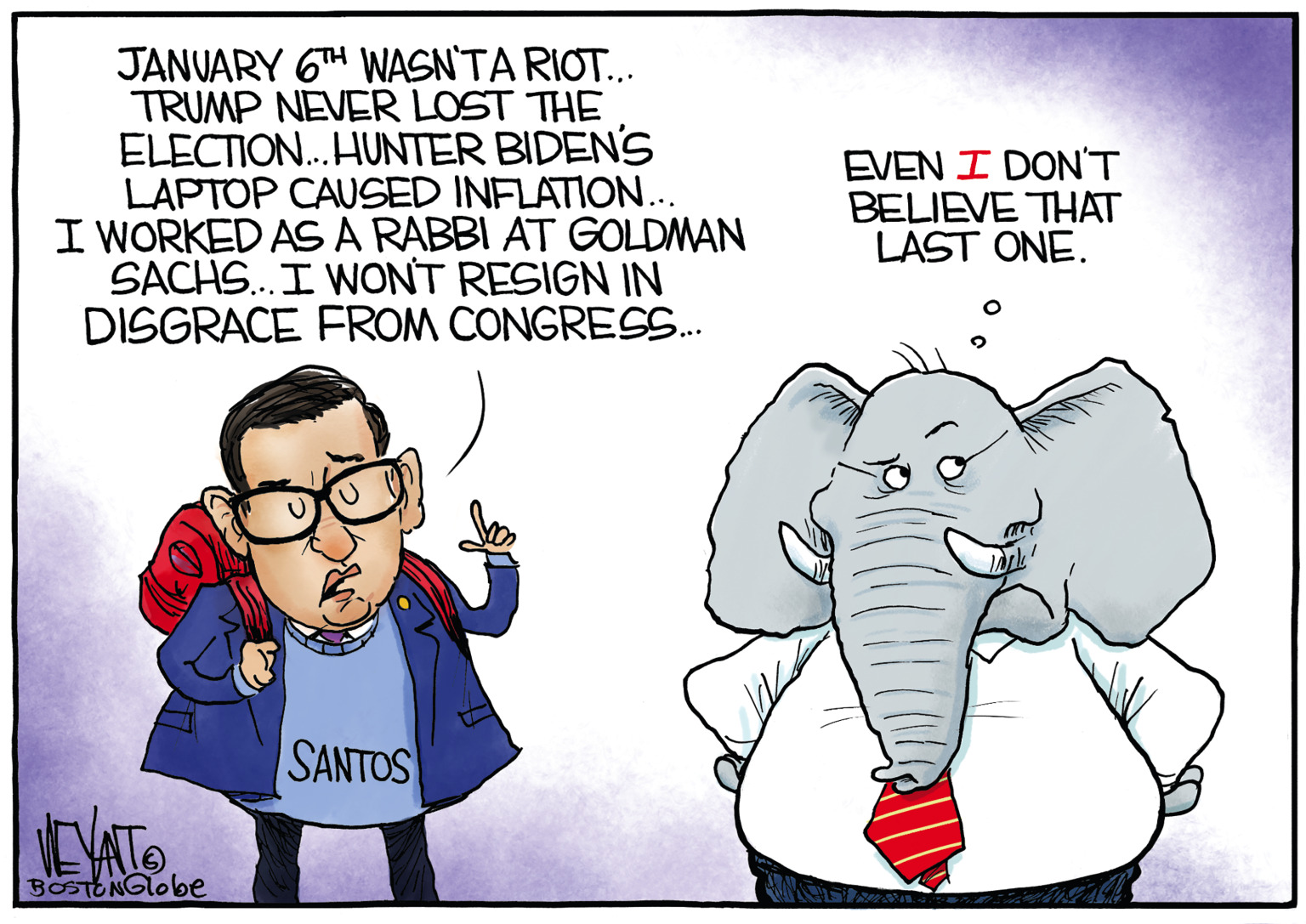 Dear Commons Community,
Disgraced first-term congressman, George Santos, was slapped yesterday with a 13-count federal indictment charging him with wire fraud, money laundering, theft of public funds and making false statements to Congress.
Santos, facing the list of allegations, was in custody in the U.S. Federal Courthouse in Central Islip, L.I., where he was to appear to face the charges for the first time this afternoon.
The allegations include a 2020 scheme to collect COVID-19-related unemployment funds while working as an investment firm director, a campaign finance fraud operation where he used donor money to buy designer clothes and pay his personal debts — and a string of untruths about his assets and income to the House of Representatives.
"This indictment seeks to hold Santos accountable for various alleged fraudulent schemes and brazen misrepresentations," stated Brooklyn U.S. Attorney Breon Peace.
"Taken together, the allegations in the indictment charge Santos with relying on repeated dishonesty and deception to ascend to the halls of Congress and enrich himself."
Santos won his race for Congress in 2022 on a wave of deception, lying about his education, religion, family history, professional experience and property ownership. The house of cards collapsed soon after his victory, with his fictional claims exposed bit by bit as the first-term politician turned into a punch line.
But Santos refused to step down despite mounting outrage, admitting to some of the lies and exaggerations but insisting he had never done anything illegal.
Federal prosecutors, in court papers, sought the forfeiture of any property involved in the cited offenses.
"He used political contributions to line his pockets, unlawfully applied for unemployment benefits that should have gone to New Yorkers who lost their job due to the pandemic, and lied to the House of Representatives," said Peace.
His 2022 donor fraud scheme netted him $50,000, prosecutors said. Santos enlisted a Queens-based political consultant to help create what he told donors was a Super PAC and a "social welfare organization" to help fund his 2022 Congressional campaign, claiming the operation wasn't subject to contribution limits, prosecutors said.
The consultant told donors the money would help fund television ads and campaign expenditures while expanding how they could wire those funds into the so-called Super PAC's bank accounts.
Text messages and e-mails said the company existed "just to help this race," to "raise another $700,000 to reach our goal of $1.5 million to invest in (Santos') race" and to "purchase ads supporting George Santos," according to the indictment.
Except Santos never registered his company with the IRS as a Super PAC or as a "social welfare organization." And the $50,000 collected from two donors was used for luxury designer clothing, credit card payments, a car payment, Santos' personal debts, cash in Santos' pockets and bank transfers to his associates, prosecutors allege.
The COVID scheme started after the federal government set up its pandemic unemployment program in March 2020. Santos applied that June, claiming he had been out of work since March 22, according to the feds.
He collected nearly $25,000 in unemployment funds through April 15, 2021. Records showed that Santos was still collecting his $120,000 annual salary as regional director of a Florida-based investment firm, the feds allege.
What a loathsome leech and to think he was elected to the U.S. Congress!
Tony