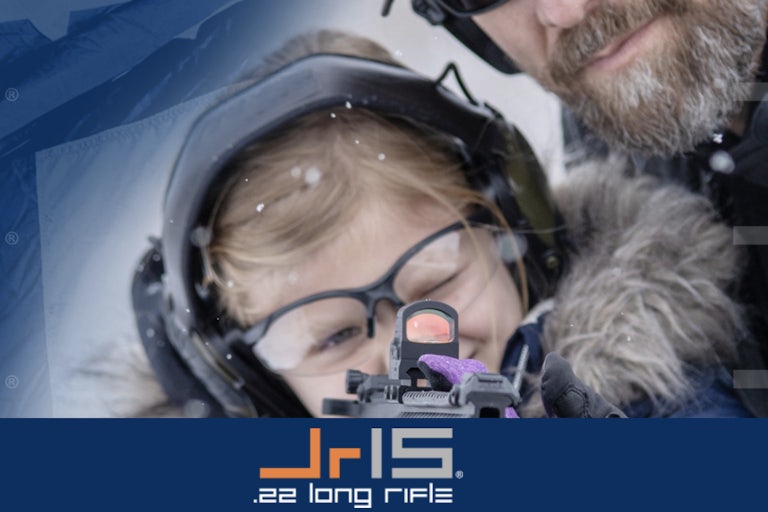 Photo from Wee 1 Tactical Website
Dear Commons Community,
Just weeks after a 6-year-old shot his teacher, a gun trade show in Las Vegas is hosting a manufacturer promoting its "JR-15," a child-size AR-15 rifle. As reported by The New Republic.
The JR-15 was first launched last year by gun manufacturer WEE1 Tactical. The launch sparked outrage as the company promoted the J.V. death machine with cartoon skulls and crossbones stylized as boys and girls. The presumed boy skull had a blonde mohawk and green pacifier, while the girl skull sported blonde pigtails and pink bows and a pink pacifier. Both cartoons had one eye patched with a rifle sight.
The company's website from last year claimed that the JR-15, while smaller, "operates just like Mom and Dad's gun." The site also boasted "SWAG for Adults and Young Shooters" that matched the cartoonized promotional materials. "The BRAND is meant to be EDGY," the site read.
Now, as WEE1 Tactical heads to the SHOT Show in Las Vegas, where the deadliest mass shooting by an individual in U.S. history took place, it is preparing to re-promote the same gateway gun with a more muted tone. The company's latest flyer skips the "edgy" branding to focus more on the product specifications of the JR-15. One page is dedicated toward explaining the company's "tamper resistant safety" switch that "requires strength and dexterity to release."
Instead of lauding the gun as "just like Mom and Dad's gun," the company focuses on the "American Family Values" to be had by buying its gun, which helps "introduce young enthusiasts to the shooting sports."
"WEE1 Tactical has adopted this supposedly kinder, gentler marketing approach because it knows from experience that most Americans are shocked and disgusted by the idea of manufacturing semiautomatic assault rifles designed for grade schoolers," said Josh Sugarmann, executive director of the Violence Policy Center.
AR-15s or similar rifles were the primary weapons used in some of the deadliest mass shootings in recent American history: the 2012 Sandy Hook Elementary School shooting, the 2017 Las Vegas shooting, the 2017 Sutherland Springs church shooting, the 2018 Stoneman Douglas High School shooting, and the 2022 Robb Elementary School shooting.
Just among this handful of American shootings, three were at schools. Most might recoil at a gross push to get even more weapons into people's hands, especially young people's. (After all, there's an estimated 120 guns for every 100 people in America.)
Representative Marjorie Taylor Greene, however, responded to the tragic Robb Elementary School shooting in Uvalde by suggesting they would have been safer with JR-15s.
What insanity we allow in this country when it comes to guns!
Tony