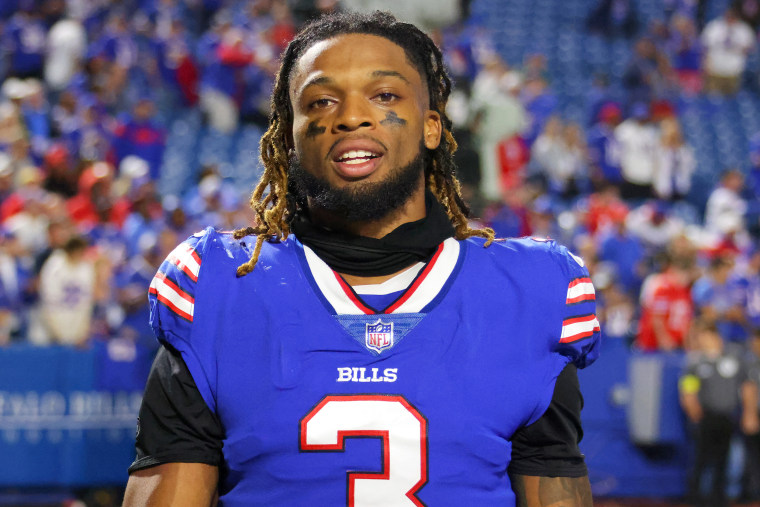 Damar Hamlin
Dear Commons Community,
If you were watching the Bills/Bengals football game last night, you saw an horrific scene unfold as Buffalo defensive back Damar Hamlin collapsed after making a tackle and needed CPR to revive his heartbeat. An ambulance carried him off the field as his teammates literally were crying as they gathered around him.  Hamlin was in critical condition this morning after the Bills say he suffered a cardiac arrest on the field following the  tackle, leading to the indefinite postponement of Buffalo's showdown against the Cincinnati Bengals.  As reported by the Associated Press and other media.
"Damar Hamlin suffered a cardiac arrest following a hit in our game versus the Bengals. His heartbeat was restored on the field and he was transferred to the UC Medical Center for further testing and treatment," the Bills said in a statement. "He is currently sedated and listed in critical condition."
In a chilling scene, Hamlin was administered CPR on the field, ESPN reported, while surrounded by teammates, some of them in tears, while they shielded him from public view. He was hurt while tackling Bengals receiver Tee Higgins on a seemingly routine play that didn't appear unusually violent.
The NFL announced Hamlin's condition shortly after he was taken to a hospital, but neither the league nor the hospital released any other details about the 24-year-old's medical condition. The team's statement was released before its flight arrived back in Buffalo early Tuesday. There was no immediate update about the future status of the game.
On the play the 6-foot, 200-pound Hamlin was injured, Higgins led with his right shoulder, which hit the defensive back in the chest. Hamlin then wrapped his arms around Higgins' shoulders and helmet to drag him down. Hamlin quickly got to his feet, appeared to adjust his face mask with his right hand, and then fell backward about three seconds later and lay motionless.
Hamlin was treated on the field by team and independent medical personnel and local paramedics, and he was taken by ambulance to University of Cincinnati Medical Center. Teammate Stefon Diggs later joined Hamlin at the hospital.
About 100 Bills fans and a few Bengals fans gathered on a corner one block from the emergency room entrance, some of them holding candles.
Jeff Miller, an NFL executive vice president, told reporters on a conference call early Tuesday that the league had made no plans at this time to play the game, adding that Hamlin's health was the main focus.
An ambulance was on the field four minutes after Hamlin collapsed while many players embraced, including quarterbacks Buffalo's Josh Allen and Cincinnati's Joe Burrow.
"Please pray for our brother," Allen tweeted.
Hamlin collapsed at 8:55 p.m., and when he was taken off the field about 19 minutes later in what seemed like an eternity, the Bills gathered in prayer. A few minutes after the ambulance left the field, the game was suspended, and players walked off the field slowly and into their locker rooms where they awaited word on Hamlin and the game.
"I've never seen anything like it since I was playing," NFL executive Troy Vincent, a six-time Pro Bowl cornerback during his career, said in the conference call early Tuesday morning. "Immediately, my player hat went on, like, how do you resume playing after seeing a traumatic event in front of you?"
Hamlin's uniform was cut off as he was attended to by medical personnel. ESPN reported on its telecast that Hamlin was also given oxygen.
Vincent said the league took no steps toward restarting the game and did not ask players to begin a five-minute warmup period as ESPN's broadcasters had announced.
"It never crossed our mind to talk about warming up to resume play," Vincent said. "That's ridiculous. That's insensitive. That's not a place we should ever be in."
Vincent said the Bills were returning early Tuesday morning to the team facility in Orchard Park, New York, with the exception of a few players who stayed behind with Hamlin.
There was a heavy police presence at Buffalo Niagara International Airport when the team arrived at about 2:45 a.m. A small group of fans gathered across the street from the players' parking area near the airport. Police blocked off the road to allow the players to leave.
The Bengals led 7-3 in the first quarter of a game between teams vying for the top playoff seed in the AFC. Cincinnati entered at 11-4 and leading the AFC North by one game over Baltimore, while AFC East champion Buffalo was 12-3.
"The NFLPA and everyone in our community is praying for Damar Hamlin," the players' union said in a statement. "We have been in touch with Bills and Bengals players, and with the NFL. The only thing that matters at this moment is Damar's health and well being."
Indeed the only thing that matters is his health!
Tony