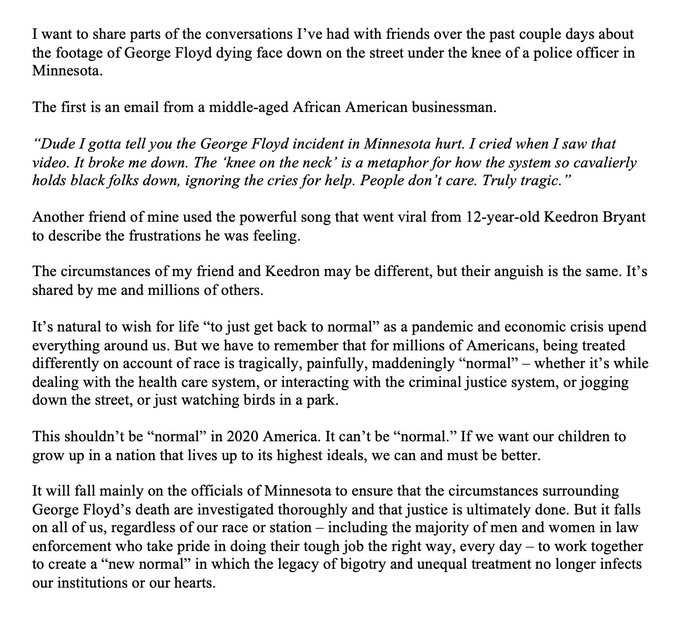 Barack Obama – Statement on the Death of George Floyd
Dear Commons Community,
By now most Americans have seen the video of the killing of George Floyd by police officers in Minneapolis, Minnesota.  We have also seen during the last several nights the protests and violence in that city and elsewhere. 
Former President Barack Obama on Friday declared the death of George Floyd, the black man who died after being pinned to the ground by a Minneapolis police officer, unacceptable. "This shouldn't be 'normal' in 2020 America. It can't be normal," Obama said in a statement. "If we want our children to grow  up in a nation that lives up to its highest ideals, we can and must be better."
Floyd, who was 46, was handcuffed on Monday and held down by four white officers, including one who kneeled on his neck for nearly eight minutes. The police were responding to a call about someone attempting to pass a counterfeit bill.
"It will fall mainly on the officials of Minnesota to ensure that the circumstances surrounding George Floyd's death are investigated thoroughly and that justice is served," the former president continued. "But it falls on all of us, regardless of our race or station — including the majority of men and women in law enforcement who take pride in doing their tough job the right way, every day — to work together to create a 'new normal' in which the legacy of bigotry and unequal treatment no longer infects our institutions or our hearts."
Obama said he was sharing parts of conversations with friends about the case, including one with a "middle-aged African American businessman"  who wrote "the knee on the neck is a metaphor for how the system so cavalierly holds black folks down." The former president praised a viral video of a spiritual composed and sung by Keedron Bryant, a 12-year-old boy, who sang: "I just want to live."
"The circumstances of my friend and Keedron may be different, but their anguish is the same," Obama said. "It's shared by me and millions of others."
Floyd was unarmed and handcuffed while he was held on the ground. Four Minneapolis officers involved were fired the next day as local and federal authorities launched an investigation into the case.

The arresting officer, Derek Chauvin, 44, is a 19-year veteran who has been the subject of a dozen police conduct complaints that resulted in no disciplinary action. Chauvin's use of his knee to pin Floyd to the ground was a technique not approved by the city's police department, and it drew widespread condemnation from U.S. police officials.  Chauvin has been charged with third-degree murder and second-degree manslaughter.

Footage taken by a bystander triggered near-universal outrage and protests around the country over his killing.
Obama's statement came hours after demonstrations over Floyd's death escalated in Minneapolis for a third straight night, where protesters set fire to a police precinct and looted and torched businesses.
President Trump condemned the protesters as "THUGS" and suggested the military, which has been called in to assist local and state police, shoot them. The message was flagged by Twitter for "glorifying violence."
"These THUGS are dishonoring the memory of George Floyd, and I won't let that happen," Trump wrote. "Just spoke to Governor Tim Walz and told him that the Military is with him all the way. Any difficulty and we will assume control but, when the looting starts, the shooting starts."
Former Vice President Joe Biden said Trump's tweet left him "furious."
"I will not lift the President's tweet. I will not give him that amplification," Biden wrote on Twitter. "But he is calling for violence against American citizens during a moment of pain for so many. I'm furious, and you should be too."
America cries out for leadership in this time of despair by so many of its citizens!
Tony