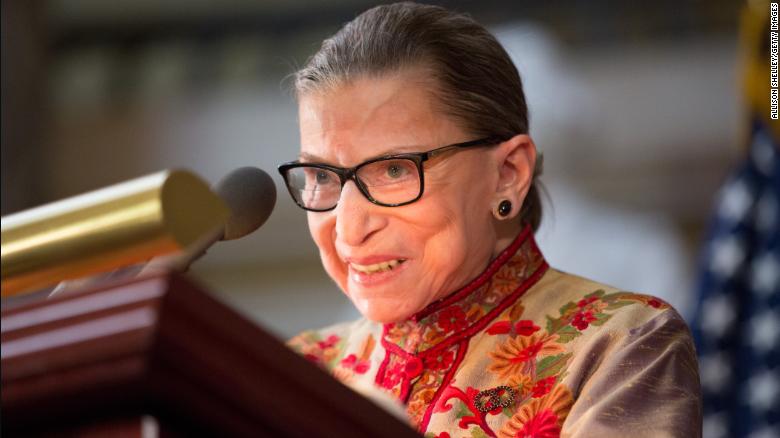 Ruth Bader Ginsburg
Dear Commons Community,
The US Supreme Court yesterday gave President Trump a victory in his fight for a wall along the Mexican border by allowing the administration to begin using $2.5 billion in Pentagon money for its construction.  In a 5-to-4 ruling with five conservative justices voting in favor, the court overturned an appellate decision and said that the administration could tap the money while litigation over the matter proceeds. But that will most likely take many months or longer, allowing Mr. Trump to move ahead before the case returns to the Supreme Court after further proceedings in the appeals court.  While the order was only one paragraph long and unsigned, the Supreme Court said the groups challenging the administration did not appear to have a legal right to do so. That was an indication that the court's conservative majority was likely to side with the administration in the end.
Meanwhile, in a separate forum on Wednesday, Justice Ruth Bader Ginsburg offered a  defense of the two Trump-appointed justices, Justices Brett Kavanaugh and Neil Gorsuch and called for an end to the "dysfunction" in confirming Supreme Court nominees.  As reported by CNN:
"I can say that my two newest colleagues are very decent and very smart individuals," she said  at an event in Washington, D.C., hosted by Duke Law School as she answered questions from Neil Siegel, a law professor and one of her former law clerks.
Now that the Supreme Court term has ended, Ginsburg, 86, has been pushing back against criticism of the court, saying in a recent interview with NPR that the nine justices work well together and rebutted the idea that the Supreme Court is a partisan institution, according to the news outlet.
The comments to NPR from Ginsburg — who earlier this year took a break from the court after undergoing cancer surgery — come amid concerns from progressives that her death or retirement would give President Donald Trump an opportunity to replace a reliably liberal seat on the court with a conservative justice. Ginsburg has sought in recent days to signal that her health is stable and she has no plans to step down with the court facing major issues in its next session on immigration, gun control, gay rights and possibly abortion.
Kavanaugh was sworn in on October 6, following a contentious confirmation hearing inflamed by allegations of sexual assault against him. Kavanaugh replaced retired Justice Anthony Kennedy, who had been the court's swing vote.
Gorsuch took his seat on April 10, 2017, filling the vacancy left by the late Justice Antonin Scalia. Both were nominated to the Supreme Court by Trump.
Ginsburg has previously praised Kavanaugh for helping the court achieve a historic first.
"There is a very important first on the Supreme Court this term, and it's thanks to our new justice, Justice Kavanaugh, whose entire staff is all women. All of his law clerks are women," she said earlier this month at a event held by Georgetown Law School. "And with his four women as law clerks, it's the first time in the history of the United States that there have been more women clerking at the court than men."
Although we should question the funding for the wall, we respect what Bader Ginsburg says!
Tony