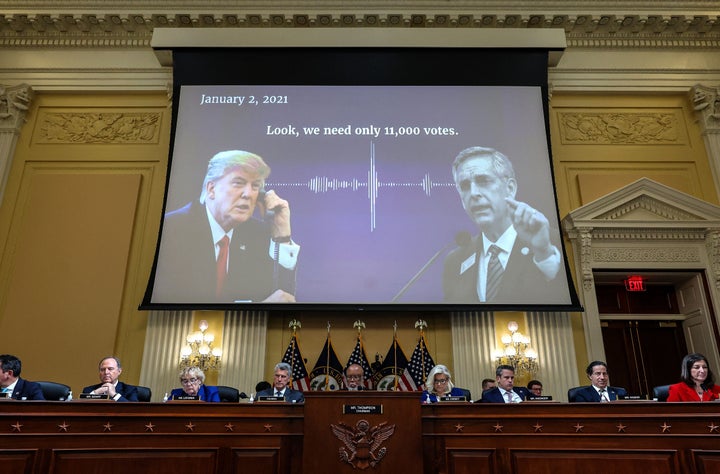 Dear Commons Community,
Donald Trump last night was indicted in Georgia on charges that he committed state crimes by trying to coerce election officials to overturn his narrow loss to Joe Biden there, as part of his coup attempt to remain in power despite losing the 2020 election.
Also indicted were a laundry list of Trump lawyers and allies, including Rudy Giuliani, Mark Meadows, John Eastman, Jenna Ellis, Sidney Powell, Kenneth Chesebro, former Department of Justice official Jeffrey Clark and a host of Georgia Republican officials.
At a news conference that started close to midnight, District Attorney Fani Willis said the "criminal conspiracy" had the "illegal goal of allowing Donald J. Trump to seize the presidential term of office beginning on Jan. 20, 2021."
"The grand jury issued arrest warrants for those who are charged," Willis said. "I am giving the defendants the opportunity to voluntarily surrender no later than noon on Friday the 25th day of August 2023."
The sweeping 98-page document details a total of 161 criminal acts, 41 counts and 19 defendants, including Trump, who was charged with 13 of the counts. The scheme is described as a "criminal enterprise" under Georgia's broad racketeering law.
"Trump and the other defendants charged in this indictment refused to accept that Trump lost, and they knowingly and willfully joined a conspiracy to unlawfully change the outcome of the election in favor of Trump," the indictment stated in the introduction.
Among the charges: the harassment and threats against two Fulton County elections workers, Ruby Freeman and Shaye Moss, on false allegations that they were tampering with ballots.
The indictment also focuses on the fake elector scheme, which it states was "intended to disrupt and delay the joint session of Congress on January 6, 2021, in order to unlawfully change the outcome of the November 3, 2020, presidential election in favor of Donald Trump."
Willis' indictment lays out an act-by-act chronology of the conspiracy, starting with a discussion Trump had on Oct. 31, 2020 ― three days before election day ― about a speech in which he would claim fraud and declare victory even if he lost. Trump in fact gave such a speech in the wee hours of election night: "An overt act in furtherance of the conspiracy," according to the indictment.
The narrative, listing dates, times and locations, lays out events that in most instances are not by themselves illegal but taken together are elements of a conspiracy to unlawfully remain in office despite having lost.
Trump's indictment was handed up by a Fulton County grand jury just before 9 p.m. ET following a marathon day of hearing testimony from witnesses. Local police started setting up barricades around the courthouse two weeks ago in anticipation of potential protests.
In a statement released by his presidential campaign about an hour after the indictment was filed but before it was made public, Trump called Willis a "rabid partisan" who is trying to hurt his effort to return to the White House. "They are taking away President Trump's First Amendment right to free speech, and the right to challenge a rigged and stolen election that the Democrats do all the time," the statement said, repeating the same lies that led to the Jan. 6, 2021, insurrection in the first place.
The indictment is the second related to his post-election activities leading up to and on the violent assault on the U.S. Capitol on Jan. 6, 2021. Trump was charged in a federal indictment in Washington, D.C., two weeks ago, accusing him of conspiring to defraud the United States, conspiring to obstruct an official proceeding, obstructing an official proceeding, and conspiring to deny civil rights.
U.S. Department of Justice special counsel Jack Smith had previously brought 37 felony charges against Trump in June for retaining top-secret documents at his Florida country club and then hiding them from authorities seeking their return. On Thursday, he added three new charges in an updated indictment, including two that accused Trump of ordering the deletion of a computer server that contained incriminating video footage.
Let the trial(s) begin!
Tony