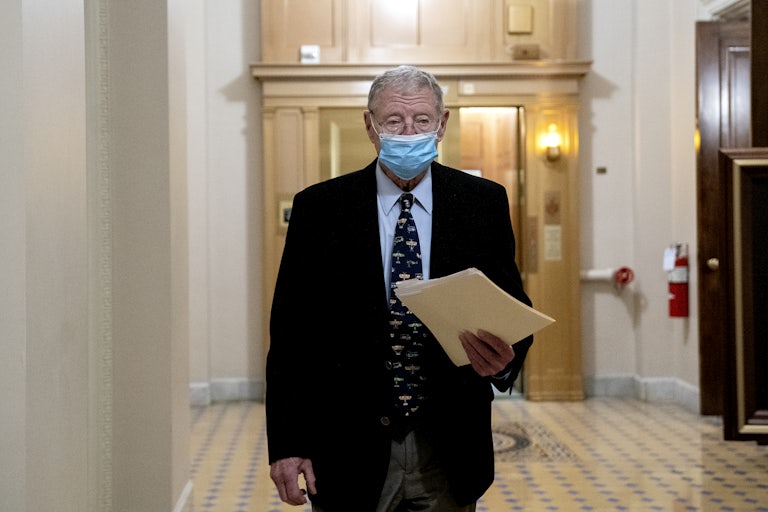 Former Senator Jim Inhofe
Dear Commons Community,
Former Senator Jim Inhofe revealed that he suffers from long-term effects of Covid-19, which played a part in his decision to retire from Congress, and at least five other members of Congress suffer from the same thing.  As reported by The New Republic.
The Oklahoma Republican announced last February he planned to retire after almost 40 years on Capitol Hill. During the same press conference, his chief of staff announced that Inhofe had contracted a "very mild" case of Covid-19. But clearly, the effects of the virus have been much longer-lasting. And he's not the only one.
"Five or six others have (long Covid), but I'm the only one who admits it," Inhofe told Tulsa World in a recent interview.
He did not say what symptoms of long Covid he suffers from, nor which other members of Congress are struggling with long Covid. But Democratic Senator Tim Kaine has been open about his mild long Covid symptoms.
Inhofe struck a highly contradictory tone during the start of the coronavirus pandemic. He warned people to take the virus seriously, telling Tulsa World in a March 2020 interview, "You know I'd be the first to say we're overreacting because that's kind of how I am, but we're not. By people not believing, by not taking precautions, they're making it more likely to spread."
However, Inhofe also voted against several key Covid relief bills, including the Families First Coronavirus Response Act, which required employers to give employees paid sick leave or expanded medical and family leave for Covid-related reasons. That bill had enormous bipartisan support, with 90 senators voting for it.
Inhofe also voted against the American Rescue Plan, which was aimed at providing economic relief due to the crisis caused by the pandemic. The bill included funding for the national vaccination program, the stimulus checks, and the expanded unemployment benefits.
In sum, he place party loyalty before his and his country's health! 
Tony