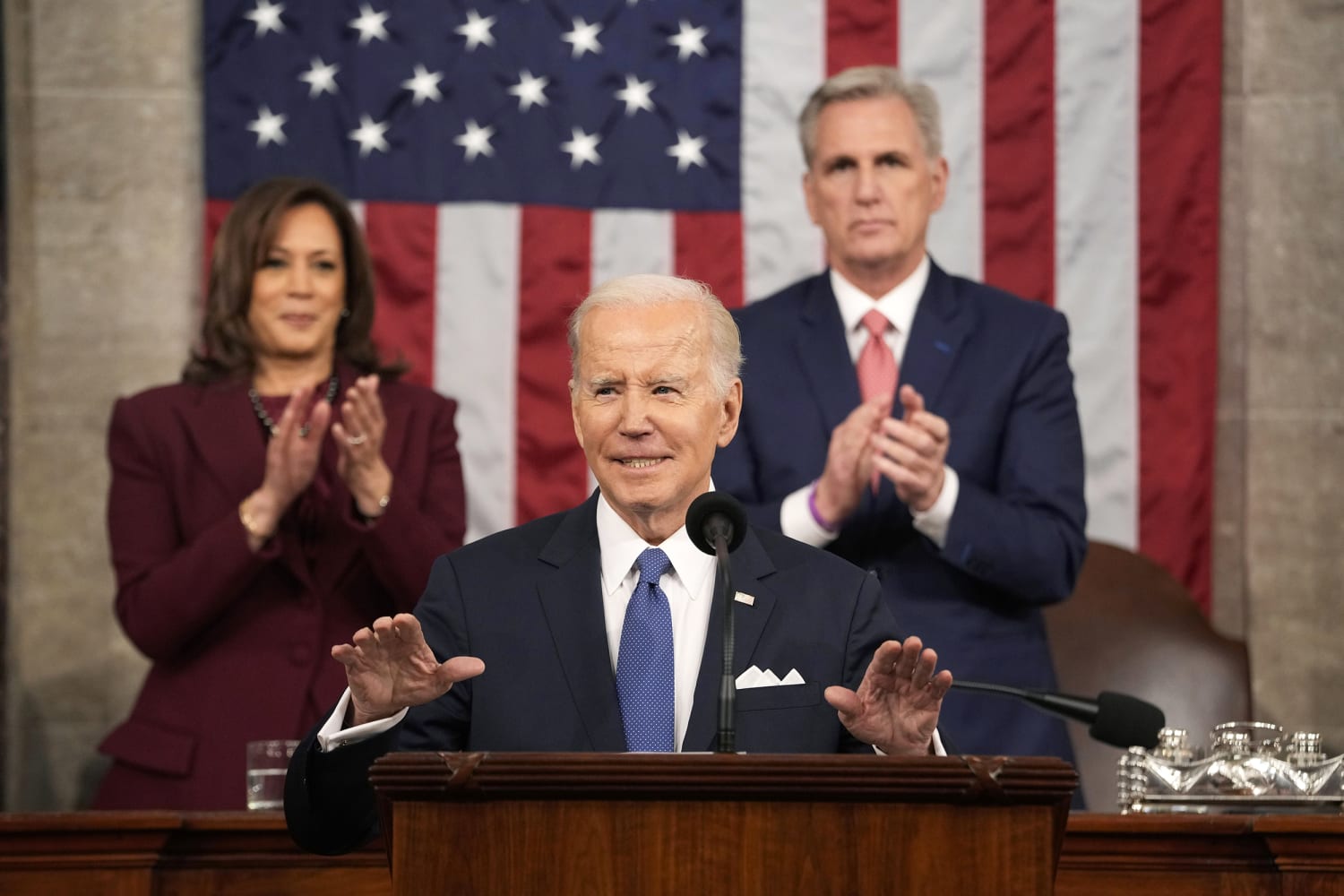 Dear Commons Community,
President Joe Biden gave his 2023 State of the Union Speech last night in front of the US Congress.  He was both feisty and compassionate.  I was happy to see Republican House Speaker Kevin McCarthy applaud, even stand for some of Biden's message.  Below are six takeaways courtesy of the Associated Press.  They are a good recap of several of the important points made.  You can view Biden' State of the Union at the end of this post.  Or if you prefer, the entire text of the State of the Union can be found here.
Tony
—————————————————————————————
The Associated Press
Biden speech takeaways: More conciliation than conflict
By JOSH BOAK and AAMER MADHANI

The State of the Union address tends to have a ritual rhythm. Grand entrance. Applause. Platitudes. Policies. Appeals for Unity, real or imagined.
President Joe Biden checked those boxes, and a few more, during his speech to a joint session on Congress on Tuesday. In part, he seemed to be laying the foundation to run for a second term. "We've been sent here to finish the job," he said.
Biden made calls for unity and tried to emphasize conciliation over conflict, easier to do in this rarefied setting, seemingly impossible to sustain in such divided times.
Takeaways from the president's State of the Union address:
MORE CONCILIATION THAN CONFLICT
Biden's speech almost defiantly ignored the bitter divisions between Republicans and Democrats and his own low standing with the public.
He returned repeatedly to common ground, making the case that both parties can back U.S. factories, new businesses being formed and the funding of 20,000 infrastructure projects. When Biden hit each of these themes, Republican House Speaker Kevin McCarthy politely clapped, evening standing to applaud at one point.
It's a sign that Democrats and Republicans can at least agree to a shared set of goals, even if they have very different views of how to get there.
In the midterm election campaign, Biden warned of Republican extremists. On Tuesday night, he portrayed them as partners in governance during the first two years of his presidency.
But then came a Biden comment that generated boos and hoots from Republicans: Biden said some in the GOP were bent on cutting Social Security and Medicare.
That sparked a raucous back and forth that seemed more in line with the reality of the actual relationship between the parties.
REGULAR JOE
Biden used the speech to highlight his focus on the common man, calling out billionaires who pay lower tax rates than the middle class and airlines that treat their passengers like "suckers."
It amounted to a dare to Republican lawmakers who increasingly claim to represent blue-collar workers.
"No billionaire should pay a lower tax rate than a school teacher or a firefighter," Biden said in one of the bigger applause lines of his speech.
The president brought back an idea from last year to put a minimum tax on billionaires so they don't pay a lower rate than many middle-class households. Biden had pitched a 20% tax on the income and unrealized financial gains of households worth $100 million or more. The administration estimated it would generate $360 billion over 10 years. That would in theory help fund some priorities and possibly reduce the deficit.
But Biden's tax plan might be more about scoring political points, as he couldn't get it past West Virginia Democrat Joe Manchin in the Senate last year.
He was straightforward in saying he would stop airlines from charging fees in order to sit families together, saying that children were being treated like luggage. He wants to ban hidden resort fees charged by hotels and penalties charged by cell service providers.
"Americans are tired of being played for suckers," Biden said.
PASSING OVER CHINA BALLOON
Biden had been on a winning streak countering the United States' rising military and economic competitor China.
Then Beijing brazenly floated a spy balloon across the United States, an embarrassing episode for Biden that culminated last weekend with him ordering the Pentagon to shoot the craft out of the sky over the Atlantic Ocean.
The incident has dominated headlines, with some Republicans arguing that it demonstrates Biden has been wobbly on Beijing.
Biden briefly addressed the incident directly: "As we made clear last week, if China's threatens our sovereignty, we will act to protect our country. And we did."
Lost in the noise is the Biden administration's increasingly aggressive efforts to counter China. like agreements with the Philippines and Japan to adjust or expand the U.S. military presence in those countries.
The balloon drama overshadowed all of that.
STANDING WITH UKRAINE
Last year's State of the Union was dramatically shaped by Russia's invasion of Ukraine, which started days before the address.
At that moment, the chances of Ukraine staying in the fight with a more formidable Russian military seemed highly unlikely. Nearly a year later, Ukraine is firmly in the fight.
Biden took a moment to pay tribute to Ukraine, addressing one of his guests, Ambassador Oksana Markarova, as representing "not just her nation but the courage of her people."
He also applauded Congress for giving the Ukrainian what it needed to face Russia's brutal aggression; the United States has already committed nearly $30 billion in security assistance since the start of the war.
In private, administration officials have made clear to Ukrainian officials that Congress' patience with the cost of the war will have its limits. But with Tuesday's address, Biden offered an optimistic outlook about the prospects of long-term American support.
"Ambassador, America is united in our support for your country," Biden said looking toward Markarova in the gallery. "We will stand with you as long as it takes."
FEELING THEIR PAIN
Among Biden's guests were the parents of Tyre Nichols, the 29-year-old black man whose beating death at the hands Memphis, Tennessee, police has reignited a national debate on policing.
Efforts to reduce police excesses have been sharply restricted by resistance in Congress, and there's little prospect of federal action.
Still, Biden expressed awe at the grace of Nichols' mother, RowVaughn Wells, who following his death has talked of her son's "beautiful soul" and hopeful certainty that "something good will come from this."
Biden, 80, also acknowledged in plain terms that as a white man he's enjoyed a privilege that Nichols' parents — and Black parents writ large — do not.
"Imagine having to worry whether your son or daughter will come home from walking down the street or playing in the park or just driving their car," he said. "I've never had to have the talk with my children — Beau, Hunter and Ashley — that so many Black and Brown families have had with their children."
FINISH THE JOB
Biden uttered the phrase "finish the job" at least a dozen times during his address. It sounded like the makings of a slogan he might employ for a reelection campaign.
But it is highly unlikely he will be able to finish the job on many of the things he referenced, like an assault weapons ban, universal preschool for 3- and 4-year-olds and forcing companies to stop doing stock buybacks.
At least not during this term.