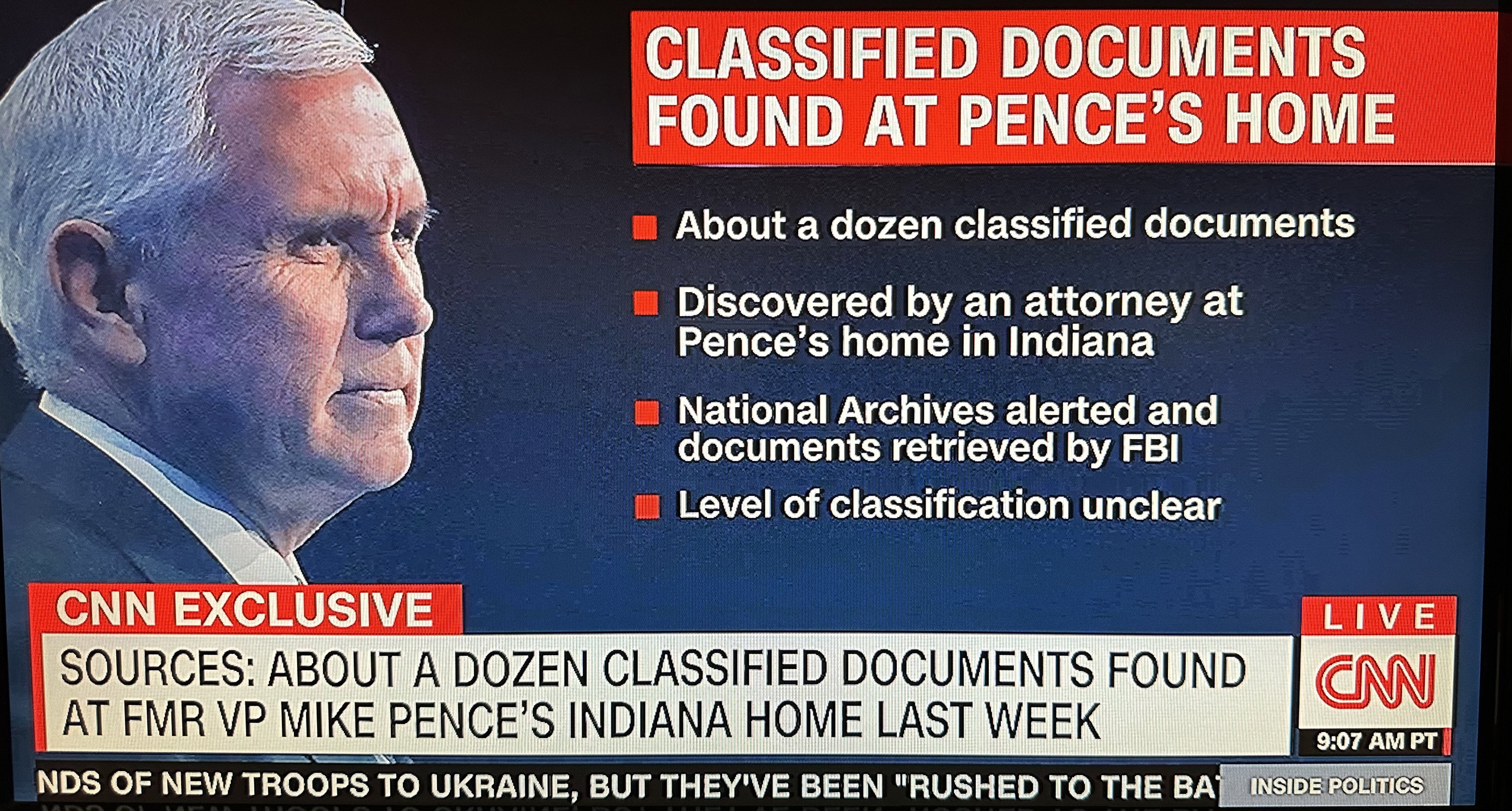 Dear Commons Community,
Here we go again!  The New York Times and CNN reported yesterday that aides to former Vice President Mike Pence found a "small number of documents" with classified markings at his home in Indiana during a search last week, according to an adviser to Mr. Pence.
The documents were "inadvertently boxed and transported" to Mr. Pence's home at the end of President Donald J. Trump's administration, Greg Jacob, Mr. Pence's representative for dealing with records related to the presidency, wrote in a letter to the National Archives.
The discovery of the classified documents in Mr. Pence's home was reported by CNN.
The letter, dated Jan. 18, said that the former vice president was unaware of the existence of the documents and reiterated that he took seriously the handling of classified materials and wanted to help.
Mr. Jacob wrote that Mr. Pence relied on an outside lawyer after classified documents were found in recent days at the residence and former private office of President Biden. A person familiar with the search identified that lawyer as Matthew E. Morgan, who has a long history with the Pences and who worked as a lawyer on the 2020 re-election campaign. Mr. Jacob also said the lawyer could not specify anything more about the documents because the lawyer had stopped looking once it was clear the documents had classified markings.  As reported by The New York Times.
"Counsel identified a small number of documents that could potentially contain sensitive or classified information interspersed throughout the records," Mr. Jacob wrote of the search, which he said was conducted on Jan. 16. A person familiar with the matter said the lawyer who conducted the search previously worked with Mr. Pence in the Trump administration and had a security clearance while there.
"Vice President Pence immediately secured those documents in a locked safe pending further direction on proper handling from the National Archives," Mr. Jacob wrote.
In a second letter dated four days later, Mr. Jacob wrote that despite having a conversation with archives officials on Jan. 19 about procedures for obtaining records from former presidents and vice presidents, the Justice Department that evening "bypassed the standard procedures and requested direct possession" of the documents.
Mr. Pence was in Washington attending the March for Life anti-abortion event, Mr. Jacob wrote, but he still granted permission to turn over the documents. Mr. Jacob also wrote that there were two boxes in which the records with classified markings had been found, as well as two additional boxes with copies of administration papers.
He said he would personally bring those boxes to the National Archives on Jan. 23. An archives spokesperson declined a request for comment.
Mr. Pence's transition out of office was notoriously bumpy, after Mr. Trump spent weeks pressuring him to effectively overturn the results of the 2020 election so that Mr. Trump could stay in power.
Still, the disclosure brings more questions about how classified material is handled at the top levels of government at a moment when Mr. Biden and Mr. Trump are both subjects of special counsel investigations on the matter.
At a news conference on Tuesday, Attorney General Merrick B. Garland had no comment when asked about the retrieval of the documents from Mr. Pence's house. He declined to say whether the Justice Department's involvement in the matter signaled an impending criminal investigation that might warrant referral to a special counsel.
I just did a quick check of my house and office and I can take an oath that I do not have any classified documents.  I think!
Tony