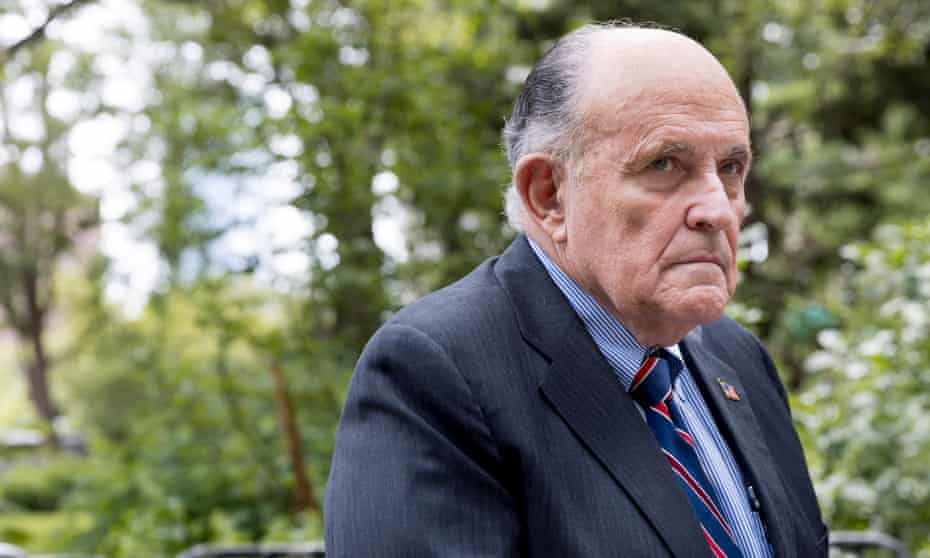 Dear Commons Community,
Andrew Kirtzman, a writer and biographer, had a guest essay over the weekend entitled, "Giuliani's Loyalty to Trump Was Born in His Darkest Moment."  Mr. Kirtzman has a book coming out on Giuliani later this year.  He provides insights into Giuliani's relationahip with Donald Trump  at a time when Rudy was in a severe depression. Using information provided by associates including Giuliani's ex-wife, Judith, Kirtzman reveals a pathetic view into Giuliani's descent from America's mayor to vicious hit man.  His conclusion:
"Ms. [Judith] Giuliani always felt that her husband's Achilles' heel was his bottomless need for validation. It would lead him to make a lot of bad decisions. He would never stop protecting Mr. Trump. As the nation witnessed in the hearings of the past two weeks, he worked to upend a legitimate presidential election, destroying reputations and sabotaging American democracy in the process, all without batting an eye."
The entire essay is below.
Tony
---
The New York Times
Giuliani's Loyalty to Trump Was Born in His Darkest Moment
June 25, 2022
By Andrew Kirtzman
Mr. Kirtzman, who has written books about Rudy Giuliani's mayoralty and the Bernie Madoff scandal, is the author of the forthcoming biography "Giuliani: The Rise and Tragic Fall of America's Mayor," from which this essay is adapted.
Shaye Moss, a Georgia election worker, described on national television on Tuesday the smear campaign that Rudy Giuliani waged against her and her mother. Mr. Giuliani, speaking to Georgia legislators weeks after the 2020 presidential vote, had accused the two women of engaging in "surreptitious, illegal behavior" while working the polls on election night and conjured a racist image of them "passing around USB ports as if they are vials of heroin or cocaine." The fabricated allegations, based on a cynical misrepresentation of a video, were designed to persuade Georgia officials to overturn the election results in their state, and they triggered an avalanche of harassment and death threats against the women.
How did America's mayor get to this low point? Mr. Giuliani's rise to power in New York was often marked by venality, but nothing from his mayoral or prosecutorial years resembles his near-complete moral collapse under Donald Trump. They have been a pernicious team, and the strength of their bond — and how it ultimately drove the attempted subversion of the 2020 election — is rooted in Mr. Trump's veneration of a bygone champion and Mr. Giuliani's almost primal need to remain relevant.
On election night, Mr. Giuliani was the only one of Mr. Trump's advisers pushing him to declare victory early, even though Mr. Trump was behind in the count, with millions of ballots outstanding. Jason Miller, a Trump adviser, said in video testimony released on June 13 that Mr. Giuliani appeared inebriated when he pushed this dubious strategy, bringing his mountain of personal problems to a defining moment in history. (Mr. Giuliani has denied that he was intoxicated on election night and has previously denied that he has a drinking problem. A spokesman for Mr. Giuliani declined to comment for this essay.)
Mr. Trump, never known for his loyalty to aides, has stood by Mr. Giuliani for years and through many embarrassments, including a raft of bungled television appearances, a compromising scene in a "Borat" film, a nationally televised news conference held in a parking lot of a landscaping company and another in which what appeared to be hair dye streamed down his cheeks. "Rudy was there when a lot of you guys weren't," the former president would snap at staff members.
Mr. Trump rarely gushes about anyone besides himself, but there is something about Rudy Giuliani that has always made him swoon. "Some people don't like him and some people love him totally," Mr. Trump said of Mr. Giuliani on "Larry King Live" on Oct. 7, 1999. "I happen to be in love." As president, Mr. Trump often spoke about him with a deference that virtually no other aide received. Mr. Giuliani as mayor was a role model for Mr. Trump; his raw exercise of power, his use of bombast as a weapon and his relentless attacks on his critics and the media all made a huge impression. His style influenced Mr. Trump's approach to the presidency "more so probably than any other political figure," Mr. Miller, the Trump adviser, told me over the course of reporting for a new biography of Mr. Giuliani.
The two men go back decades. As mayor, Mr. Giuliani looked favorably upon Mr. Trump's development projects. He spoke at the funerals of both of Mr. Trump's parents. Mr. Trump, in turn, wasn't just "in love" with the New York mayor — Mr. Giuliani was perhaps the most famous national political leader with whom Mr. Trump had longstanding ties as he explored a presidential bid in 2000 and beyond. Mr. Trump saw how Mr. Giuliani became a hero after Sept. 11 and how he became a punchline after losing the run for the White House in 2008. Mr. Trump went to some lengths to help Mr. Giuliani in that low period. Indeed, the hallmarks of what would become one of the most toxic partnerships in recent presidential history came into stark relief during the months after Mr. Giuliani's lifelong hopes of becoming president ended in humiliation.
Mr. Giuliani was the favorite to win that race. Beloved for his leadership after Sept. 11, the former mayor was at one point more admired than the pope. He spent nearly a year as the front-runner before the start of the 2008 Republican presidential primaries. But an almost comically misguided campaign ended nearly four weeks after the Iowa caucus, when he withdrew from the race with some $4 million in debt and just one delegate to show for his efforts.
The ridicule that he endured in its aftermath was merciless. T. Boone Pickens, the Texas billionaire, went public with his displeasure in a written letter of apology to donors he recruited to the campaign. Mr. Giuliani "rode up to the grandstand and fell off his horse," he wrote.
Mr. Giuliani's ex-wife Judith, who was with him at the time, told me that what gnawed at the former mayor most was a creeping fear of irrelevancy. (The couple divorced in 2019.) The flameout forced him to lower his sights from how to amass power to how to hold on to what he had left. When he offered a reporter a rare post-mortem on the race in 2009 he betrayed his concern. "I think I should've fought Iowa harder," he told New York magazine. "That was the beginning of becoming irrelevant."
After endorsing John McCain at the end of January, Mr. Giuliani disappeared from public view. Eager to escape the dreary cold of February in New York, he and his wife packed their bags and went to Florida to stay at her parents' two-bedroom condo in Palm Beach, which Mr. Giuliani bought for them. They lived in Palm Beach Towers, an upscale high-rise apartment complex, with views of the crystalline blue Intracoastal Waterway, a swimming pool, landscaped gardens and nearby golf courses — a natural place to relax after a brutal campaign. But he rarely left the apartment, spending his time sitting listlessly on his in-laws' living room couch, sleeping late in the bedroom or smoking cigars in his bathrobe on the terrace facing a parking lot.
Ms. Giuliani said he refused to socialize or sit for meals, even as her mother, Joan, tried to entice him with his favorite dish, pasticcio. "It started to really worry me because he was waking up only if I would wake him," she said. He became melancholy and self-pitying ("You should leave me"), she said. Her response — "You still have kids that love you, you have me, you have your health" — failed to assuage his sense of failure. "He just could not get over it," she said.
She said he started to drink more heavily. While Mr. Giuliani was always fond of downing a scotch with his cigars, his friends never considered him a problem drinker. Ms. Giuliani felt he was drinking to dull the pain. The situation was concerning enough to send the couple searching for a more discreet locale for his recuperation, as the press caught on to their stay at Palm Beach Towers and photographers started popping up.
In search of a friend to turn to, they found one in Donald Trump. "We moved into Mar-a-Lago and Donald kept our secret," Ms. Giuliani said.
Mr. Trump provided them with a hideaway that was secluded from the press and passers-by, a safe space for an ailing friend who was a magnet for photographers. He had a perfect spot for them — a bungalow across the street from Mar-a-Lago. A small tunnel ran underneath South Ocean Boulevard, a narrow two-lane highway, allowing the Giulianis to walk to dinner beyond the glare of the press. "He thought he was finished," she told me. His drinking accelerated, she said, the beginning of a series of episodes in which he fell and hurt himself. "He was always falling shitfaced somewhere," she said.
The true depth of his depression was something that only she and Mr. Giuliani knew for certain, because they were largely isolated at the time. Many of Mr. Giuliani's aides considered his wife a loose cannon, prone to exaggeration. Mr. Giuliani's only mention of that period was to tell The New York Times in 2018 that he "spent a month at Mar-a-Lago, relaxing." Their friends in New York said the two were out of touch with them. Joseph Lhota, the former deputy mayor, told me that his vague recollection was that Mr. Giuliani "kind of lost himself. No one heard from him for a while." He recalled that Tony Carbonetti, Mr. Giuliani's political adviser and closest aide, told him at the time that Mr. Giuliani was "in a dark place."
Mr. Carbonetti now says that only the Giulianis know for sure how bad things were for his old boss. "There was a period where it was just the two of them for two or three months," he told me. "She was the only person really spending significant time with him."
Both Donald and Melania Trump kept a protective eye on them, Ms. Giuliani said. According to a confidante of hers, she and Ms. Trump were practicing yoga on the beach one day when Ms. Trump spotted a Mar-a-Lago employee shooting photos of them. Ms. Trump complained to her husband, who marched to the scene and confronted the employee. After some back-and-forth, the man grudgingly handed Mr. Trump his camera. When Mr. Trump saw the photos his employee had taken of his wife and her companion, he fired him on the spot.
During their stay, Ms. Giuliani said, she and her husband decided to see a movie at a West Palm Beach shopping center one afternoon. The outing ended soon after it began. She said he stumbled out of the car, fell to the ground and gashed his forehead so badly he needed stitches. Several weeks later, he made his first public appearance since arriving at Mar-a-Lago, traveling to New York to appear on "Saturday Night Live." He sat on the set of "Weekend Update" making self-deprecating jokes about the failure of his campaign. His makeup just barely hid a scar above his right eyebrow.
Notwithstanding the turmoil in Mr. Giuliani's life, it was clear that he and Mr. Trump had found a compelling kinship. The former mayor and the celebrity developer were two New York colossuses, dinosaurs from another time and place — or perhaps it was just a state of mind — in which powerful men flaunted their money and influence to prove their dominance over other powerful men, and wives were first and foremost arm candy, the more beautiful and diamond bedecked the better. "He would always come home and bring these beautiful gifts," Ms. Giuliani said of her former husband. "He wanted it to be ostentatious, he wanted me to walk down Madison Avenue with a big pearl necklace or a big diamond ring. He loved that it was emblematic for him of his not being, as he used to say, just a Brooklyn boy. He needed that validation."
That Mr. Trump would take Mr. Giuliani under his protective wing at a desperate time in the former mayor's life was a glimpse into their unique bond, and may well have solidified the relationship. What's clear is that it survived when other Trump relationships died away like so many marriages of convenience. For decades the two have performed a dance of respect and loyalty that has endured their shifting power dynamics.
When Mr. Trump's presidential candidacy reeled from the release of the infamous "Access Hollywood" tape, Mr. Giuliani was one of few who defended him. When Robert Mueller investigated Mr. Trump's Russia ties, Mr. Giuliani promoted a theory about a nonexistent Biden-Ukraine conspiracy. When Mr. Trump faced the abyss in 2020, the two needed each other more than ever. Mr. Giuliani was the last of the president's high-profile advisers willing to lead his immoral battle. Seventy-six years old at the time, Mr. Giuliani's political and financial future, possibly even his escape from prosecution, was now dependent upon Mr. Trump's remaining in office.
Ms. Giuliani always felt that her husband's Achilles' heel was his bottomless need for validation. It would lead him to make a lot of bad decisions. He would never stop protecting Mr. Trump. As the nation witnessed in the hearings of the past two weeks, he worked to upend a legitimate presidential election, destroying reputations and sabotaging American democracy in the process, all without batting an eye.