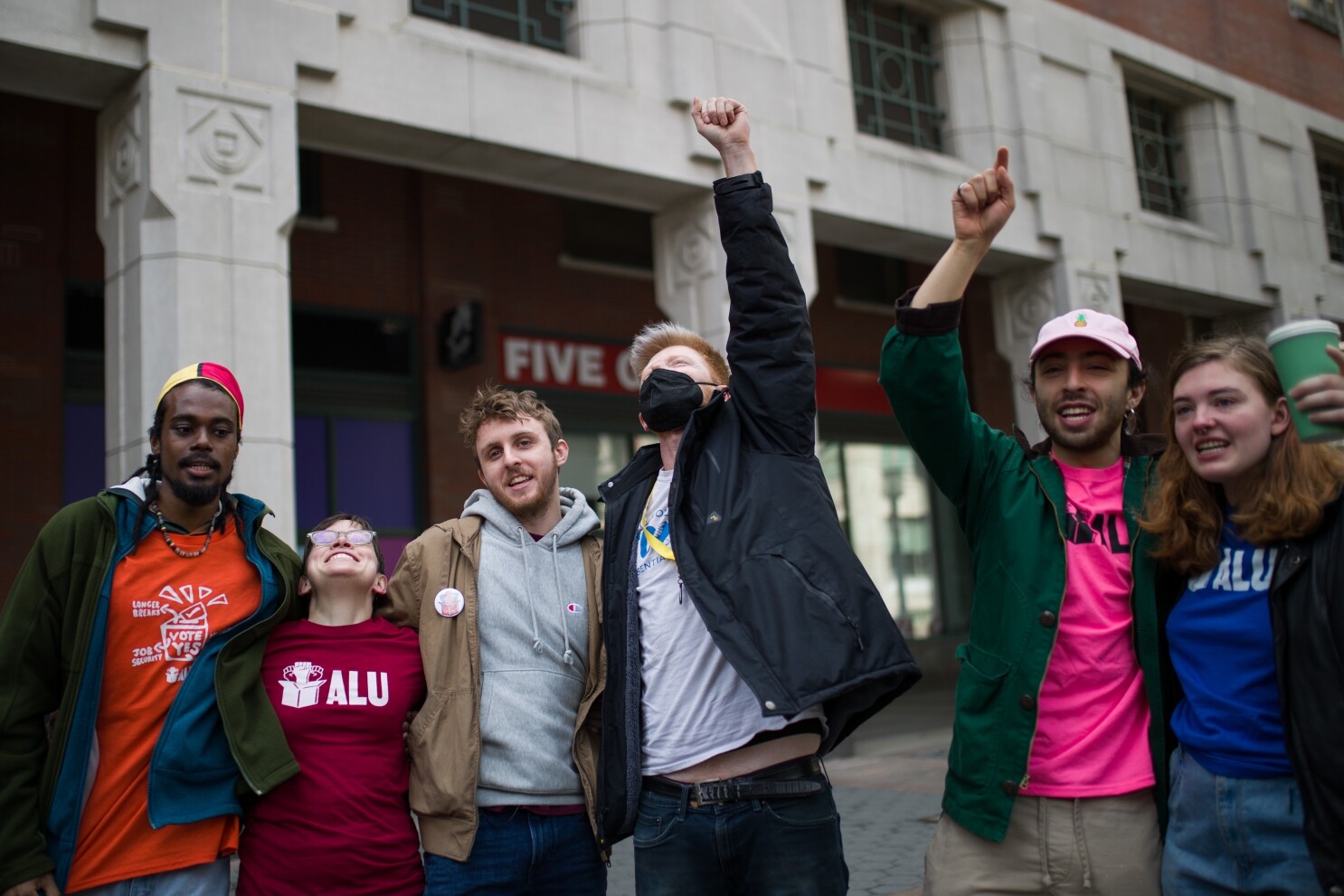 Amazon Workers Vote to Unionize!
Dear Commons Community,
In a historic win for the labor movement, warehouse workers on Staten Island, New York, have voted to form the first union inside an Amazon facility in the U.S.
Employees at the company's fulfillment center known as JFK8 will be joining a new independent labor group, the Amazon Labor Union, or ALU, following an election conducted by the National Labor Relations Board. The union delivered a stunning upset in the vote count held Thursday and Friday, winning 2,654 to 2,131.
If the labor board certifies the results to make them official, then the world's largest online retailer will be obligated to bargain with a union representing several thousand of its employees, something it has never had to do except overseas.  As reported by several news media including HuffPost.
Amazon suggested in a statement that it may challenge the results of the election, alleging "inappropriate and undue" influence by the labor board. The company said it was "evaluating our options."
"We're disappointed with the outcome of the election in Staten Island because we believe having a direct relationship with the company is best for our employees," a statement from the company read.
Following the conclusion of the vote count on Friday, union members and supporters gathered on the sidewalk outside the labor board office in Brooklyn. Wearing red shirts with the union's logo, they hugged, celebrated and chanted "ALU! ALU! ALU!"
Meanwhile, the labor board conducted a separate vote count Thursday for a different Amazon facility considering unionization, in Bessemer, Alabama. Workers voted 875 to 993 against joining the Retail, Wholesale and Department Store Union, but more than 400 other ballots have been challenged and remain unopened, meaning the union could still win after the board determines those voters' eligibility.
In the Staten Island case, Amazon can appeal the election results if it decides to allege misconduct. In response to the company's claims, Kayla Blado, a board spokesperson, said that the NLRB is an independent agency tasked with enforcing the law, and that all its actions against Amazon "have been consistent with that Congressional mandate."
Amazon has put up stiff resistance against union organizing efforts, inundating workers with anti-union messaging and holding frequent meetings with workers to discourage them from signing union cards or voting for union representation. Disclosure filings that Amazon submitted to the Labor Department on Thursday indicate the company spent $4.3 million last year on labor consultants who help employers defeat organizing drives.
Until this week, those strategies had worked.
The labor victory in Staten Island is all the more remarkable because of the union's unlikely roots. Amazon Labor Union was formed just last year by a group of workers in New York. It is led by Chris Smalls, a former Amazon worker whom the company controversially fired early in the pandemic after he spoke out about safety concerns, and Derrick Palmer, who works at JFK8.
Most unions have a large staff, including professional organizers, who are paid through workers' dues to carry out the union's work. But ALU has not been around long enough to have the resources of an established union. Smalls, Palmer and their fellow pro-union workers organized relentlessly outside the Staten Island facility, holding cookouts, speaking with workers about the campaign and urging them to sign union cards.
The group battled the company on TikTok and Twitter and raised money through GoFundMe.
"Words can't describe this feeling," Smalls told reporters in Brooklyn on Friday.
He thanked Amazon founder Jeff Bezos for blasting off into space, "because when he was up there, we were signing people up."
After Amazon fired Smalls in 2020, Vice reported on internal company notes that showed Amazon planned to smear him as he spoke out about his termination. The company's general counsel, David Zapolsky, described Smalls as "not smart or articulate," and said Amazon appears more credible than Smalls in a public fight.
As the vote tally continued on Friday, Smalls sent out a jubilant tweet to remind Bezos and Zapolsky of his treatment.
Last month, Smalls was arrested for allegedly trespassing at the Staten Island warehouse after showing up to drop off food for workers, drawing a round of bad publicity for Amazon. The retailer said it had called the police on Smalls, but not on the two other ALU members who were also arrested.
The election win for the union is one of a string of recent labor successes at public-facing companies, including Starbucks and outdoor retailer REI. Workers at eight Starbucks stores in three states have unionized so far, and roughly 150 other stores have petitioned for elections.
Union membership in the U.S. is hovering near a historic low, with just 6.1% of private-sector workers belonging to unions. Labor activists have debated for years about how to turn around the flagging numbers. Until this week, unions had a poor track record running elections at workplaces as large as an Amazon warehouse.
With more than 8,000 workers eligible to vote at JFK8, Friday's outcome is the biggest election win for the labor movement in years.
The young union will now face an even greater challenge: negotiating a first collective bargaining agreement with one of the most powerful companies in the world. It can take years for a union to secure a first contract, and some never manage to. Amazon would have a strong incentive not to offer the union a decent deal, for fear it would only encourage more unionization elsewhere.
Last year, Smalls told HuffPost that one of the greatest challenges to organizing Amazon is dealing with the company's high turnover. Many workers, he said, don't stay around long enough to be turned into union supporters.
"That's the name of Amazon's game: Hire and fire," he said at the time. "They know that people don't want to be here long, that these jobs break you down physically and mentally."
ALU has called for a wage of at least $30 per hour to accommodate New York's high cost of living, as well as greater job security. Amazon workers must meet the company's well-known production quotas or they can lose their jobs with no recourse, something Smalls has said needs to change.
"We demand to be treated as human beings and not mere replaceable appendages to the robots and algorithms that run the warehouses," ALU says on its website.
The union originally petitioned the labor board for an election last year, then withdrew it ahead of a vote. After gathering more signatures, the union returned to the board to file its petition with greater support from workers.
Later this month, workers at another, smaller Amazon facility on Staten Island are expected to vote on whether to join the ALU as well.
Congratulations to the ALU!
Tony