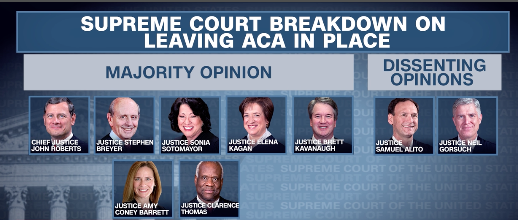 Dear Commons Community,

The Affordable Care Act yesterday survived a third major challenge as the Supreme Court, on a 7-to-2 vote, turned aside the latest effort by Republicans to kill the health care law.
The legislation, President Barack Obama's defining domestic legacy, has been the subject of relentless Republican hostility. But attempts in Congress to repeal it failed, as did two earlier Supreme Court challenges, in 2012 and 2015. With the passing years, the law gained popularity and became woven into the fabric of the health care system.
Yesterday, in what Justice Samuel A. Alito Jr. called, in dissent, "the third installment in our epic Affordable Care Act trilogy," the Supreme Court again sustained the law. Its future now seems secure and its potency as a political issue for Republicans reduced.
The margin of victory was wider than in the earlier cases, with six members of the court joining Justice Stephen G. Breyer's majority opinion, one that said only that the 18 Republican-led states and two individuals who brought the case had not suffered the sort of direct injury that gave them standing to sue.
Chief Justice John G. Roberts Jr., who had cast the decisive vote to save the law in 2012, was in the majority. So was Justice Clarence Thomas, who had dissented in the earlier decisions.
"Whatever the act's dubious history in this court," Justice Thomas wrote in a concurring opinion, "we must assess the current suit on its own terms. And, here, there is a fundamental problem with the arguments advanced by the plaintiffs in attacking the act — they have not identified any unlawful action that has injured them."
Justices Sonia Sotomayor, Elena Kagan, Brett M. Kavanaugh and Amy Coney Barrett also joined Justice Breyer's majority opinion. At Justice Barrett's confirmation hearings last year, Democrats portrayed her as a grave threat to the health care law.
The court did not touch the larger issues in the case: whether the bulk of the law could stand without a provision that initially required most Americans to obtain insurance or pay a penalty.
Good to see that the Court has protected the Affordable Care Act.  The justices who supported it represent an interesting combination of conservatives and liberals.  I also think that this puts an end to anymore challenges being presented to the Court in the foreseeable future.

Tony