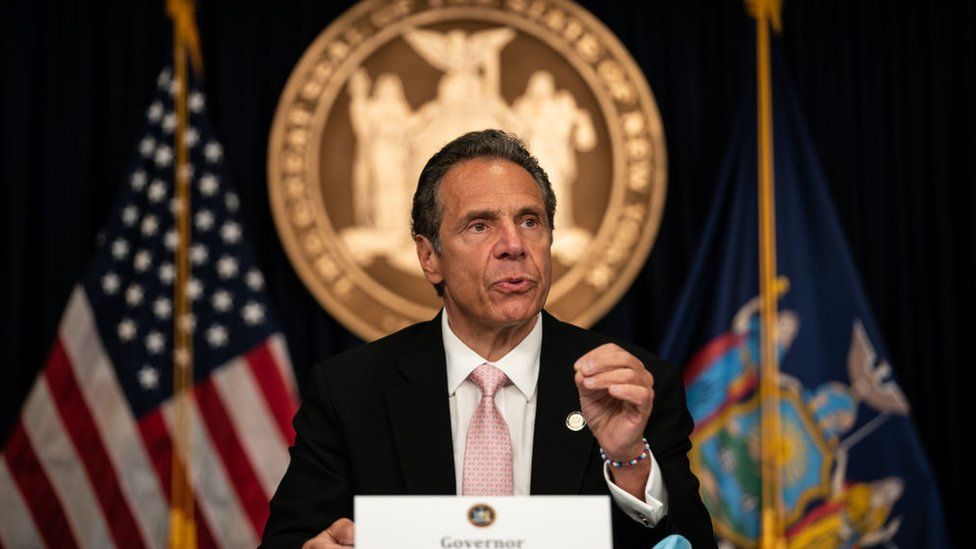 Dear Commons Community,
New York Gov. Andrew Cuomo yesterday apologized for comments that "have been misinterpreted as an unwanted flirtation" and, following pressure from fellow Democrats, agreed to refer matters of sexual harassment to the state attorney general's office.  As reported by NBC News.
"At work sometimes I think I am being playful and make jokes that I think are funny," he said, adding, "I mean no offense and only attempt to add some levity and banter to what is a very serious business."
"I now understand that my interactions may have been insensitive or too personal and that some of my comments, given my position, made others feel in ways I never intended," he continued. "I acknowledge some of the things I have said have been misinterpreted as an unwanted flirtation. To the extent anyone felt that way, I am truly sorry about that."
The statement comes after former Cuomo aide Charlotte Bennett, 25, told The New York Times that Cuomo made several inappropriate remarks about her sex life, which she said she interpreted as an overture. Cuomo denied the allegations, which NBC News has not independently reported, by saying he "never made advances toward Ms. Bennett nor did I ever intend to act in any way that was inappropriate."
Bennett's allegation is the second a former aide has levied against Cuomo since December. Last week, Lindsey Boylan, a deputy secretary for economic development and special adviser to Cuomo from 2015 to 2018, expanded on a December tweet saying Cuomo "sexually harassed me for years." In an essay posted Wednesday on Medium, Boylan detailed her experience, which she said included an unwanted kiss from Cuomo. In a statement to NBC New York, Cuomo spokesperson Caitlin Girouard said, "There is simply no truth to these claims."
Yesterday, Cuomo said: "To be clear I never inappropriately touched anybody and I never propositioned anybody and I never intended to make anyone feel uncomfortable, but these are allegations that New Yorkers deserve answers to."
The statement came amid a back-and-forth Sunday between the governor's office and New York Attorney General Letitia James over the parameters of an investigation into the matter. His office on Saturday appointed a former federal judge to review the allegations, but top Democrats, including James, said Cuomo hadn't gone far enough to ensure the independence of the inquiry into the claims.
The governor's office changed course yesterday, announcing that it was asking the state's attorney general and its chief judge to appoint an independent investigator to examine allegations of sexual harassment against him. But James said later that she didn't accept the proposal, as it wouldn't give her office full authority over the process.
"While I have deep respect for Chief Judge DiFiore, I am the duly elected attorney general and it is my responsibility to carry out this task," she said in a statement. "The governor must provide this referral so an independent investigation with subpoena power can be conducted." Janet DiFiore is chief judge of the Court of Appeals, the state's highest court.
Just prior to the release of Cuomo's statement, Cuomo's office said that it would ask Attorney General Tish James to "select a qualified private lawyer to do an independent review of allegations of sexual harassment."
James confirmed later Sunday evening that the referral was "in line with our demands and New York state law."
"This is not a responsibility we take lightly," she said. "We will hire a law firm, deputize them as attorneys of our office, and oversee a rigorous and independent investigation."
Within the past 24 hours, a number of prominent Democrats had called for such an independent investigation following the allegations, criticizing the prob Cuomo initially announced.
A spokesperson for Senate Majority Leader Chuck Schumer, D-N.Y., said in a statement, "Sen. Schumer has long believed sexual harassment is never acceptable and must not be tolerated, and that allegations should be thoroughly and independently investigated."
Sen. Kirsten Gillibrand, D-N.Y., on Sunday also called for "an independent, transparent and swift investigation into these serious and deeply concerning allegations." She later clarified that James' office should solely handle the review.
Rep. Alexandria Ocasio-Cortez, D-N.Y, tweeted Sunday: "Lindsey Boylan and Charlotte Bennett's detailed accounts of sexual harassment by Gov. Cuomo are extremely serious and painful to read. There must be an independent investigation — not one led by an individual selected by the Governor, but by the office of the Attorney General."
Speaking on CNN's "State of the Union," White House press secretary Jen Psaki said President Joe Biden believes Bennett and Boylan "should be treated with respect and dignity."
"There should be an independent review of these allegations," she said. "They're serious. It was hard to read that story as a woman. And that process should move forward as quickly as possible, and that's something we all support and the president supports."
This is tough love for Governor Cuomo!
Tony