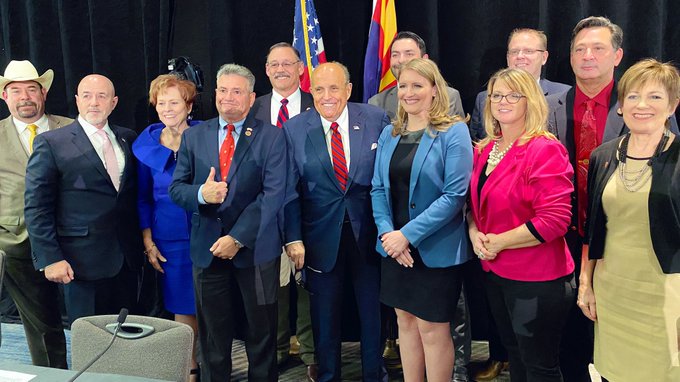 Giuliani in Arizona Last Week
Dear Commons Community,
Rudy Giuliani was hospitalized yesterday after President Trump announced the former New York City mayor, the president's personal attorney and the point man for his efforts to overturn the results of the election, had tested positive for COVID-19.
Giuliani was admitted to Georgetown University Medical Center, where he is "recovering quickly and keeping up with everything," he tweeted late last night.
The 76-year-old has spent the past several weeks crisscrossing the country to promote the president's claims that the election was stolen by the Democrats.
In public appearances, Giuliani and other members of the Trump legal team have ignored social distancing guidelines and other public health recommendations to stop the spread of the coronavirus.
In the past week alone, Giuliani appeared at election-related hearings in Arizona, Michigan and Georgia, speaking in close proximity to others without wearing a mask.
After Giuliani's COVID-19 diagnosis was made public, Arizona announced its state House and Senate would close for a week "out of an abundance of caution." Giuliani spent more than 10 hours at the Hyatt Regency Phoenix last Monday discussing election concerns and posing for a group photo with Arizona Republicans, including two members of Congress and at least 10 current and future state lawmakers.
In Georgia, members of a state Senate subcommittee who attended Thursday's hearing with Giuliani were advised to quarantine.
"Little did I know that the most credible death threat that I encountered last week was Trump's own lawyer," Jen Jordan, a Georgia Democratic state senator who met with Giuliani, tweeted Sunday afternoon. "To say I am livid would be too kind. Sham senate hearing was travesty of justice. Now impact might go far beyond that."
The Trump campaign released a statement saying Giuliani tested negative for the virus before his recent trips and "did not experience any symptoms or test positive for COVID-19 until more than 48 hours after his return."
Dozens of White House and campaign officials have been infected with COVID-19 in the past two months, including the president himself. Last month, Giuliani's son, Andrew, who works for the administration, tested positive for COVID-19 a day after appearing with his father at a news conference in Washington.
Trump and Giuliani's behavior regarding protecting others from the coronavirus has been nothing short of reckless.
Tony