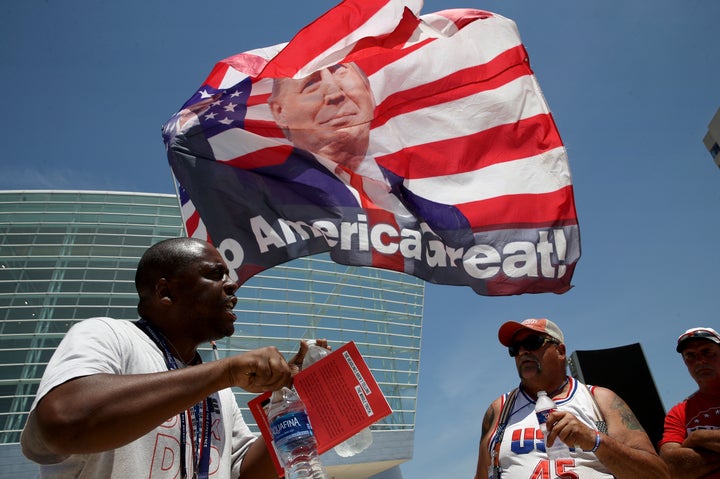 Nicholas Winford, left, debates Trump supporter Randall Thom, right, yesterday on the racial policies of President Donald Trump outside the BOK Center in Tulsa, Oklahoma.
Dear Commons Community,
President Donald Trump is all but cheering for violence in Tulsa, Oklahoma today.
Trump took to Twitter yesterday to pick a fight with American citizens as preparation for his rally in the Sooner city, his first since COVID-19 gripped the nation in March.
He tweeted: "Any protesters, anarchists, agitators, looters or lowlifes who are going to Oklahoma please understand, you will not be treated like you have been in New York, Seattle, or Minneapolis. It will be a much different scene!"
Mayor G.T. Bynum stated on Thursday:
"I have received information from the Tulsa Police Department and other law enforcement agencies that shows that individuals from organized groups who have been involved in destructive and violent behavior in other States are planning to travel to the City of Tulsa for purposes of causing unrest in and around the rally."
Bynum didn't elaborate as to which groups he meant, and police and city officials didn't immediately respond to phone messages yesterday seeking further information. Although President Donald Trump has characterized those who have clashed with law enforcement after Floyd's death as organized, radical-left thugs engaging in domestic terrorism, an Associated Press analysis found that the vast majority of people arrested during recent protests in Minneapolis and Washington, D.C., were locals.
Bynum also said crowds of 100,000 or more are expected in the area around the rally.
Trump's campaign manager, Brad Parscale, told Fox News yesterday that those unable to get inside the center are expected to attend what he described as a "festival" outside where the president might also appear.
"Tens of thousands of people will be able to be in attendance and we're going to have multiple places where the president can speak," he said.
It is also anticipated that there will be a good number of anti-Trump protesters in the area.
Tensions were always going to be high at the rally, given the nationwide movement against racism and the particular date and place the Trump campaign picked for his return to mass events.
Trump rescheduled the campaign event "out of respect" for Juneteenth, the day commemorating Black emancipation from slavery. He's faced fierce criticism for holding the rally, originally slated for Juneteenth, in Tulsa, the site of a racist massacre in 1921 when white mobs torched a prosperous Black neighborhood and killed as many as 300 Black residents.
But moving the rally forward a day doesn't remove the threat, and Tulsa is preparing for potential conflict. Some 250 soldiers with the Oklahoma Army National Guard have been activated to provide security at the event,
We hope for peace but a confrontation might be inevitable.
Tony