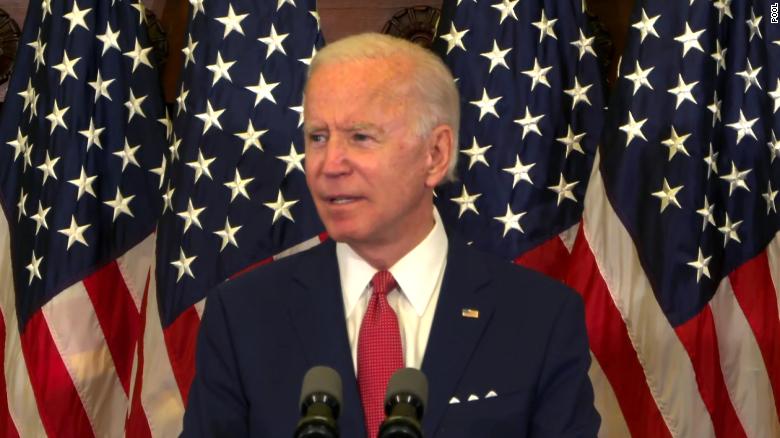 Dear Commons Community,
A major issue is evolving with the Democratic Party over what to call an overhaul of police departments around the country in response to protest marchers chants to "defund the police" in the aftermath of George Floyd's killing.  Without a doubt, much of the country supports reforms but the Democrats need to be careful how they word this.  Joe Biden tried yesterday to balance protesters' calls for a law enforcement overhaul while not alienating moderate voters.  He staked out a careful position in support of law enforcement reform but not defunding police departments, rebutting a new Republican attack line as he tries to harness growing activism against systemic racism while not alienating protesters or more moderate voters.  As reported by The New York Times.
In the face of continuing protest marches calling Mr. Biden's campaign said in a statement that he "hears and shares the deep grief and frustration of those calling out for change" and that he "supports the urgent need for reform." But a campaign spokesman, Andrew Bates, said flatly that Mr. Biden was opposed to cutting police funding and believed more spending was necessary to help improve law enforcement and community policing.
Mr. Biden's effort to address the calls of protesters while supporting law enforcement comes after gruesome videos and energetic protests have quickly reshaped public opinion about racial discrimination, seemingly opening a substantial window for new policies that could bring far-reaching change to law-enforcement agencies long accused of racially discriminatory practices. But there are already signs of division between activists who are eager to dismantle police departments and congressional Democrats who favor a less drastic overhaul of law enforcement.
President Trump's campaign and leading Republicans have sought to drive a wedge between the immediate-but-incremental calls for change among elected Democrats and the more sweeping demands that protesters are calling for in places like Minneapolis, where the death of Mr. Floyd after police officers pinned him down has prompted worldwide calls for racial justice.  
Mr. Trump, for his part, has not endorsed any new changes to policing procedures or funding. On Monday, he met with law enforcement officials at the White House and praised them, saying virtually all police officers were "great, great people" and boasting on Twitter that crime was low nationwide.
The debate within the Democratic Party was on plain display on Monday, as congressional leaders unveiled a broad legislative program on policing, including new limits on the use of lethal force and on the legal protections afforded to officers accused of misconduct. Only hours before, progressives at the municipal level in Minneapolis pledged on Sunday to take apart the city's long-troubled Police Department and rebuild it altogether.
Asked by the CBS host Norah O'Donnell on Monday if he supported defunding the police, Mr. Biden answered: "No, I don't support defunding the police. I support conditioning federal aid to police based on whether or not they meet certain basic standards of decency and honorableness."
Mr. Biden's position — a stance on policing that another prominent Democrat, Bill Clinton, might have summed up as "mend it, don't end it" — aligned him far more closely with lawmakers in Washington than with activists and left-wing lawmakers at the municipal level. His approach drew wide support from Democratic Party officials and a number of civil rights leaders, as well as politicians in the swing states likeliest to decide the general election."
I think this is a wise move on the part of Biden to consider reforms but to stay away from words like "dismantle" or "defund".  He indeed risks alienating moderate voters and would give Trump and his supporters a wedge issue that would attract a lot of attention and votes.
Tony