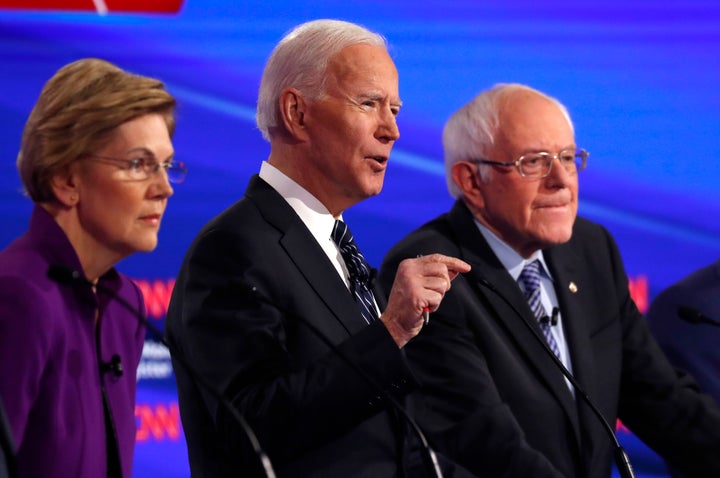 Dear Commons Community,
I watched the Democratic Presidential Debate last night and thought it was a "blah" event.  No real fireworks and a lot of softball questions.  Mercifully, we are down to six debaters.  Here are a couple of observations.
Warren and Sanders Conflict Over Women Candidates
Tensions between Elizabeth Warren and Bernie Sanders were running high before the debate following a CNN report that Sanders had told Warren during a 2018 meeting that a woman could not win the presidential election. Both candidates' campaigns, and much of the broader progressive infrastructure, signaled that they wanted a de-escalation. 
When CNN brought up its own reporting, Sanders repeated his denial ― and Warren turned in what's likely going to be a key moment of the debate. 
"Can a woman beat Donald Trump?" she asked. "Look at the men on this stage. Collectively, they have lost 10 elections. The only people on this stage who have won every single election that they've been in are the women." Her response won laughter and applause from the debate audience.
Joe Biden Keeps Ticking
Though Joe Biden isn't the clear front-runner in Iowa, he is the clear leader nationally, thanks to his strength with Black voters and the primary electorate's broad belief that he'd be the strongest candidate against Trump. And it's not clear that a victory by another candidate in Iowa would change that. 
So it was somewhat surprising Biden did not face more attacks from the other candidates. Sanders, in particular, had signaled he wanted to challenge Biden on his vote for the Iraq War and his past support for cutting Social Security. The Social Security topic never came up in the debate, and Sanders did not force the issue. And though Biden and Sanders did clash over the war, a lack of pointed follow-ups from the moderators allowed each candidate to mostly repeat their standard talking points.
 "Joe and I listened to what Dick Cheney and George Bush and Rumsfeld had to say," Sanders said. "I thought they were lying. I didn't believe them for a moment. I took to the floor. I did everything I could to prevent that war. Joe saw it differently."
"I was asked to bring 156,000 troops home from that war, which I did," Biden responded, referring to his time as Barack Obama's vice president. "I led that effort. It was a mistake to trust that they weren't going to go to war. They said they were not going to go to war."
So we move on to the Iowa caucuses on February 3rd!

Tony