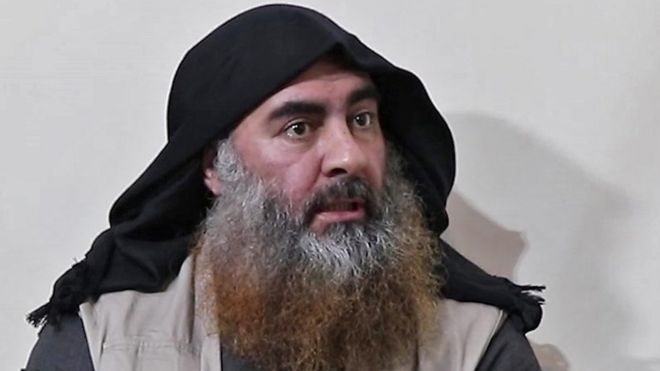 Abu Bakr al-Baghdadi
Dear Commons Community,
Abu Bakr al-Baghdadi, leader of the self-described Islamic State, was killed during a U.S. military operation in northwestern Syria on Saturday, President Donald Trump announced during a press conference yesterday morning.
"Last night, the United States brought the world's number one terrorist leader to justice. Abu Bakr al-Baghdadi is dead," Trump began. "He was the founder and leader of ISIS ― the most ruthless and violent terror organization anywhere in the world."
According to the president, U.S. special operations forces conducted the nighttime raid and "accomplished their mission in grand style." American military dogs chased Baghdadi to the end of a tunnel, where he was "whimpering and crying and screaming all the way," Trump said.
As U.S. forces closed in on him, Baghdadi detonated a suicide vest, killing himself and three of his young children, Trump said.
"He died like a dog," he said. "He died like a coward."
In the account of the so-called Islamic State leader's death, the president described him as having been "whimpering and crying and screaming."
Congressman Mac Thornberry (R-Texas) expressed unease with President Donald Trump's graphic description of the U.S. military raid.
"It probably makes me a little uncomfortable to hear a president talking that way, but, again, Baghdadi was the inspirational leader for an ISIS network across the world from Africa to Southeast Asia," he told CNN's "State of the Union." "If you can take a little of the glamour off him, if you can make him less inspirational, then there's a value to that for all of these folks who are on their computers or in these networks looking to attack."
However, Thornberry warned that the terror organization is now likely to "seek to do something to show 'we're still here, we're still relevant,' so the United States is going to be tested in the days to come."
Killing Abu Bakr al-Baghdadi was a good thing but the President's announcement could have been less graphic and less provoking.
Tony