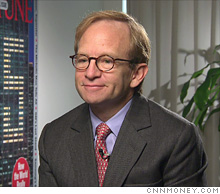 Dear Commons Community,
Steve Rattner, counselor to the U.S. Treasury secretary in the Obama administration, has an op-ed in today's New York Times that takes aim at the economic policies of world leaders during the past couple of years.  Essentially his message is that they took the best growth picture in a decade and put the world in danger of recession.  Below is the entire op-ed.
Tony
—————————————————————————-
New York Times
How World Leaders Ruined the Global Economy?
By Steve Rattner
August 16, 2019
Why are so many key global leaders pursuing so many stupid economic policies?
As recently as January 2018, the International Monetary Fund issued one of its most upbeat economic forecasts in recent years, extolling "broad based" growth, with "notable upside surprises."
By last month, the fund had sliced its forecast for expansion this year to 3.2 percent — a significant falloff from the 3.9 percent projection reiterated just six months earlier — and had pronounced the economic picture "sluggish." American investors are more concerned; the bond market is sounding its loudest recessionary alarm since April 2007.
The deterioration in the economic picture is not the consequence of irresponsible behavior by banks or a natural disaster or an unanticipated economic shock; it's completely self-inflicted by major world leaders who have delivered almost universally poor economic stewardship.
The trade war initiated by President Trump sits firmly atop the list of bad policies. But Brexit has tipped Britain into economic contraction. With European governments unwilling to pursue structural reforms, the continent is barely growing. President Xi Jinping of China has focused on standing up to Mr. Trump and solidifying his own power. After a promising start reforming the economy, India's prime minister, Narendra Modi, has turned instead to oppressing his country's Muslim minority.
And on and on.
None of this was necessary. As the January 2018 I.M.F. report indicated, the world economy was firing on all cylinders — "the broadest synchronized global growth upsurge since 2010" — as jobs were being added and inflation remained subdued.
Yes, Mr. Trump's trade war and Brexit loomed, but amid hope that the former would prove empty and the latter would be softened.
Not so today.
Often against the recommendations of his more sensible advisers, Mr. Trump has implemented the country's most protectionist actions since the 1930s. As a result, world trade has begun to fall for the first time in a decade, with noticeable economic impact. Last week, Goldman Sachs cut its already modest projections for fourth-quarter growth to 1.8 percent from 2 percent.
That's a far cry from the "4, 5, 6" percent that Mr. Trump talked about just before his tax cut passed.
Nor has that been Mr. Trump's only misstep in economic policy. Instead of nurturing growth with important investments like a robust infrastructure program, Mr. Trump deployed his political capital to secure tax cuts that disproportionately favored business and the wealthy.
The "sugar high" they produced quickly wore off. And now, instead of developing better policies, the president has chosen to attack the Federal Reserve, whose independence is cherished by investors, business people and economists.
Boris Johnson, Britain's new prime minister, abandoned his predecessor's notion of a "soft Brexit" that would have maintained some ties with the European Union. Instead, he reaffirmed his promise that his country would leave the E.U. on Oct. 31 with or without a deal. The pound quickly fell to its lowest level against the dollar since 1985. (It has since recovered slightly.)
Then there's China. By virtue of both its remarkably fast industrialization and its protectionist policies, the nation has long been a trade threat. But four years ago, the government issued its "Made in China 2025" economic manifesto, which put in writing China's plans to attain a leadership position in key new sectors, including robotics, pharmaceuticals and aerospace.
The notion of China using its state power to take on important American and European industries instead of pursuing market reforms set off alarm bells across the political spectrum and provided a concrete underpinning for Mr. Trump's trade confrontation.
Mr. Xi, rather than acknowledging China's protectionist practices, has proved unwilling to accept a new trade agreement with effective enforcement provisions. That has raised doubts about whether China is seriously interested in reforming its unfair trade practices — keeping key markets fully or partially closed, using state subsidies to favor its companies, forcing American companies to transfer technology to China and the like.
Of course, at least in the world's democracies, voters bear substantial responsibility for electing these inadequate leaders. The rise of populism as a reaction to disaffection about economic and social conditions has been well documented as a principal driving force.
But the world is now suffering the consequences of these poor choices. Even in China, Mr. Xi did not take power forcibly; he rose through the Chinese political system — much like the Civil Service in other countries — and was awarded the presidency by his peers.
Occasionally, good choices have been made, such as the election of President Emmanuel Macron of France. But even that has not led to progress; public support for Mr. Macron turned to opposition when he instituted the much needed policy changes that he promised.
Any chief executive officer who botched his or her job as badly as most of these leaders have would be fired. Let's hope that voters come to that realization when given the chance.