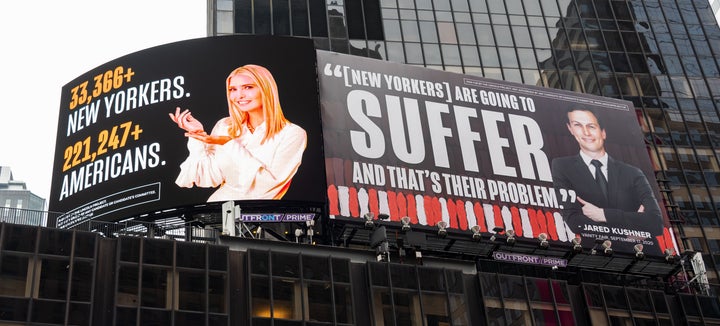 Dear Commons Community,
The conservative group, The Lincoln Project is paying for billboards erected in Times Square  featuring Ivanka Trump and Jared Kushner.  
One billboard shows Ivanka smiling and gesturing to numbers showing 33,000 New Yorkers have died from COVID-19 along with 220,000 Americans.  Kushner, who is a senior adviser to the president, is depicted on an adjacent billboard with body bags and is quoted as saying New Yorkers "are going to suffer and that's their problem."
Kushner and Trump have threatened to sue if the billboards aren't taken down.
In response, The Lincoln Project issued a tweet  saying:
"Nuts!"
"Jared and Ivanka have always been entitled, out-of-touch bullies who have never given the slightest indication they have any regard for the American people," the group tweeted. "We plan on showing them the same level of respect."
"The level of indignant outrage Jared Kushner and Ivanka Trump have shown towards The Lincoln Project for exposing their indifference for the more than 223,000 people who have lost their lives due to their reckless mismanagement of COVID-19 is comical." 
Tony