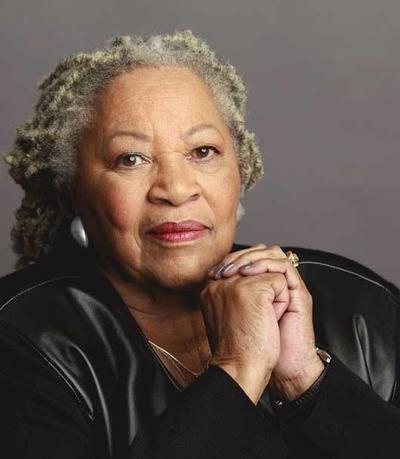 Dear Commons Community,
Toni Morrison, the Nobel laureate in literature whose books explored black identity and experiences in America died on Monday in the Bronx. She was 88.  Her death, at Montefiore Medical Center, was announced by her publisher, Alfred A. Knopf. A spokeswoman said the cause was complications of pneumonia. Ms. Morrison lived in Grand View-on-Hudson, N.Y.  Here is an excerpt from her New York Times obituary.
"Morrison was the first African-American woman to win the Nobel Prize in Literature, in 1993, Ms. Morrison was the author of 11 novels as well as children's books and essay collections. Among them were celebrated works like "Song of Solomon," which received the National Book Critics Circle Award in 1977, and "Beloved," which won the Pulitzer Prize in 1988.
Ms. Morrison was one of the rare American authors whose books were both critical and commercial successes. Her novels appeared regularly on the New York Times best-seller list, were featured multiple times on Oprah Winfrey's television book club and were the subject of myriad critical studies. A longtime faculty member at Princeton, Ms. Morrison lectured widely and was seen often on television.
In awarding her the Nobel, the Swedish Academy cited her "novels characterized by visionary force and poetic import," through which she "gives life to an essential aspect of American reality."
Ms. Morrison animated that reality in prose that rings with the cadences of black oral tradition. Her plots are dreamlike and nonlinear, spooling backward and forward in time as though characters bring the entire weight of history to bear on their every act.
Her narratives mingle the voices of men, women, children and even ghosts in layered polyphony. Myth, magic and superstition are inextricably intertwined with everyday verities, a technique that caused Ms. Morrison's novels to be likened often to those of Latin American magic realist writers like Gabriel García Márquez.
In "Sula," a woman blithely lets a train run over her leg for the insurance money it will give her family. In "Song of Solomon," a baby girl is named Pilate by her father, who "had thumbed through the Bible, and since he could not read a word, chose a group of letters that seemed to him strong and handsome." In "Beloved," the specter of a murdered child takes up residence in the house of her murderer.
Throughout Ms. Morrison's work, elements like these coalesce around her abiding concern with slavery and its legacy. In her fiction, the past is often manifest in a harrowing present — a world of alcoholism, rape, incest and murder, recounted in unflinching detail.
It is a world, Ms. Morrison writes in "Beloved" (the novel is set in the 19th century but stands as a metaphor for the 20th), in which "anybody white could take your whole self for anything that came to mind."
"Not just work, kill or maim you, but dirty you," she goes on. "Dirty you so bad you couldn't like yourself anymore. Dirty you so bad you forgot who you were and couldn't think it up."
She gave the world a lot. 
May she rest in peace!
Tony