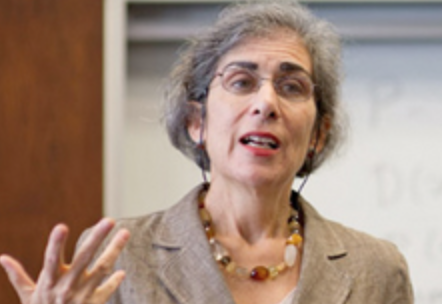 Amy Wax
Dear Commons Community,
Amy Wax, a law professor, has said publicly that "on average, Blacks have lower cognitive ability than whites," that the country is "better off with fewer Asians" as long as they tend to vote for Democrats, and that non-Western people feel a "tremendous amount of resentment and shame."
At the University of Pennsylvania, where she has tenure, she invited a white nationalist to speak to her class. And a Black law student who had attended UPenn and Yale said that the professor told her she "had only become a double Ivy 'because of affirmative action,'" according to the administration.
Professor Wax has denied saying anything belittling or racist to students, and her supporters see her as a truth teller about affirmative action, immigration and race. They agree with her argument that she is the target of censorship and "wokeism" because of her conservative views.
All of which poses a conundrum for the University of Pennsylvania: Should it fire Amy Wax? The New York Times had  a featured article yesterday reviewing Professor Wax situation.  Here is an excerpt.
The university is now moving closer to answering just that question. After long resisting the call of students, the dean of the law school, Theodore W. Ruger, has taken a rare step: He has filed a complaint and requested a faculty hearing to consider imposing a "major sanction" on the professor.
His about-face prompted protests from free speech groups, which cited one of tenure's key tenets — the right of academics to speak freely, without fear of punishment, whether in public or in the classroom.
For years, Mr. Ruger wrote in his 12-page complaint, Professor Wax has shown "callous and flagrant disregard" for students, faculty and staff, subjecting them to "intentional and incessant racist, sexist, xenophobic and homophobic actions and statements."
The complaint said she has violated the university's nondiscrimination policies and "standards of professional competence."
Her statements, the complaint added, "have led students and faculty to reasonably believe they will be subjected to discriminatory animus if they come into contact with her."
Professor Wax has fought back, arguing that the university is trying to trample on her academic freedom.
Universities want to "banish and punish" anyone "who dares to dissent, who dares to expose students to different ideas," she said on a recent podcast. "That is a really dangerous and pernicious trend."
Professor Wax did not agree to interview requests, but at a time when scholars say their speech is under attack from the left and the right, many free speech groups, including the Academic Freedom Alliance, PEN America and the Foundation for Individual Rights and Expression, have criticized the dean and said that Professor Wax should not be fired because of her public statements.
"Academic freedom cannot be a privilege of those who only espouse prevailing views but a protected right of all faculty," the Academic Freedom Alliance wrote in July to the university's president, M. Elizabeth Magill, arguing that the school should end the process to sanction Professor Wax.
But for many students, her public speech, which often mixes public policy with insulting broadsides, is the point.
Students have asked: Aren't these statements relevant to her performance in the classroom? Don't they show the potential for bias? And does this professor, and this speech, deserve the protection of tenure?
As vile as  Professor Wax's comments are, I tend to side with the Academic Freedom Alliance's position.
Tony