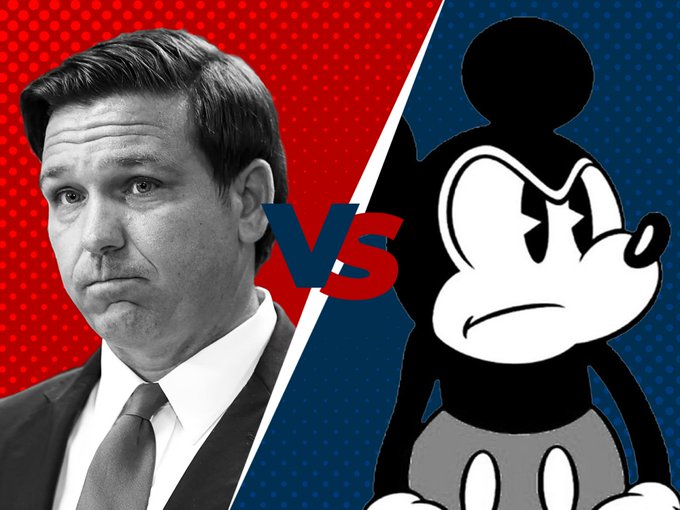 Dear Commons Community,
Governor Ron DeSantis yesterday revoked Disney's special tax and self-governing privileges in Florida, culminating an extraordinary clash between one of the Republican Party's leading figures and a powerful company with deep historical ties to his state.
The move, which reverses a 55-year arrangement effectively allowing the company to self-govern its theme park complex, came after a weekslong battle with Disney that became a symbol of the country's broader cultural fights over education, sexuality and identity.
The Florida standoff largely centered on an education law recently signed by Mr. DeSantis. That law, called the "Parental Rights in Education" measure — or, by its critics, the "Don't Say Gay" bill — prohibits classroom instruction about sexual orientation and gender identity in some elementary school grades. After internal demands to speak out, Disney, Florida's largest private employer, had criticized the measure and paused political donations.
As reported by The New York Times and the Associated Press.
The law would eliminate the Reedy Creek Improvement District, as the 55-year-old Disney government is known, as well as a handful of other similar districts by June 2023. The measure does allow for the districts to be reestablished, leaving an avenue to renegotiate its future.
The move could have huge tax implications for Disney, whose series of theme parks have transformed Orlando into one of the world's most popular tourist destinations, and serves to further sour the relationship between the Republican-led government and a major political player in the state.
For DeSantis, the attack on Disney is his latest salvo in a culture war waged over policies involving race, gender and the coronavirus, battles that have made him one of the most popular GOP politicians in the country and a likely 2024 presidential candidate.
The dispute with the company began with Disney's criticism of a new law barring instruction on sexual orientation and gender identity in kindergarten through third grade as well as instruction that is not "age appropriate or developmentally appropriate."
In March, Disney said it would suspend political donations in the state and added that it would in turn support organizations working to oppose the new law. DeSantis and his fellow Republicans then lashed out at Disney, and have defended the law as reasonable.
At the bill signing ceremony yesterday, DeSantis said Disney lied about the content of the education law but that he viewed the company's vow to fight the law as unacceptable.
"You're a corporation based in Burbank, California, and you're gonna marshal your economic might to attack the parents of my state. We view that as a provocation, and we're going to fight back against that," DeSantis said.
As it became increasingly clear this week that the measure would be enacted, some Floridians expressed growing concerns around the tax implications, though it is not yet certain what those may ultimately be.
While the new law ostensibly takes away big perks for Disney, like issuing its own building permits, Democrats warn that it leaves Central Florida's Orange and Osceola counties holding the bag for some $163 million in annual taxes. Others, including Mr. Randolph, warned that local property owners could see significant property tax hikes.
Disney had been paying taxes to itself, using the money to pay for things like the police and fire services. Now, Orange County says it will have to take on the costs for municipal services to theme parks that Disney had paid for through Reedy Creek, the special taxing district the legislature eliminated.
"It's obvious that it is political retribution that is at play here," Jerry Demings, the mayor of Orange County, told reporters. "We are trying to understand what the legislature is trying to do in this case, but I believe they have not adequately contemplated the ramifications of what they have proposed at this point."
Republicans are supposed to be friendly to corporate America.  Not in Florida!
Tony