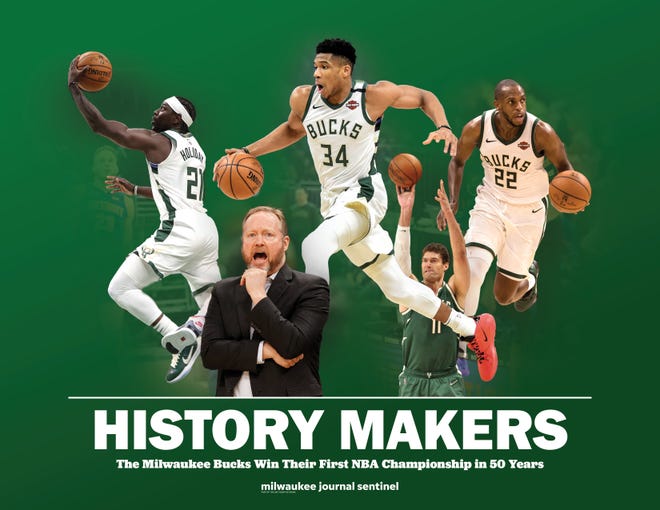 Dear Commons Community,
Kelli María Korducki, a writer and editor based in New York City, has a guest essay in today's New York Times entitled, Milwaukee Needed This Win, that comments on the Milwaukee Bucks' triumph in the National Basketball Association championship on Tuesday night. The game, the final series and the entire NBA playoffs have to rate among the best of all time with excellent basketball played throughout.  Korducki concludes that Milwaukee which has had its share of urban issues related to race and economics and a basketball win won't solve the city's problems,  but it can become "a catalyst for renewed investment in a more equal and united urban fabric." Her entire essay is below.
Congratulations to the Bucks and the city of Milwaukee!
Tony
———————————————————————————–
The New York Times
Milwaukee Needed This Win
Kelli María Korducki
July 22, 2021
When Giannis Antetokounmpo signed on with the Milwaukee Bucks in 2013, he was a scrawny 18-year-old rookie from Greece, brimming with untapped potential. The Bucks, meanwhile, were a flailing N.B.A. franchise. Somehow, it was a match made in heaven.
"This is my home, this is my city," Antetokounmpo wrote of Milwaukee in an Instagram post last December, announcing his decision to ink a new five-year deal with the Bucks.
As Milwaukee erupted Tuesday night in celebration of the Bucks' N.B.A. championship victory — the team's first title win in 50 years — I found myself seeking parallels between the unlikely Cinderella story of the league's star player and the onetime manufacturing hub where he has proudly put down roots. For both Antetokounmpo and Milwaukee, this is a triumph over what looked like insurmountable odds.
Any Milwaukeean (including me, a Milwaukee native) would tell you that this win will resonate profoundly for the city. A team stacked with exemplars of work ethic and heart, the Bucks have come to personify a spirit of civic optimism in a city that could sorely use something to celebrate.
Nobody could have engineered a more fitting hero to lead the charge than Antetokounmpo, a forward. Born in Greece to undocumented Nigerian immigrants, he was legally stateless when, as a teen, he joined a Greek amateur basketball league. He nodded at his improbable journey from the slums of Athens to the halls of N.B.A. superstardom in his speech after Tuesday night's win. "Eight and a half years ago, before I came into the league, I didn't know where my next meal would come from," he said. "My mom was selling stuff in the street."
That Antetokounmpo would twice achieve N.B.A. M.V.P. status as part of a scrappy Rust Belt operation while pointedly eschewing the superteam fast track to accolades and fortune makes his ascent all the more remarkable.
Milwaukee, 90 miles north of Chicago on the southwestern shore of Lake Michigan, entered the 21st century in a state of crisis. From 1967 to 2001, four of the city's 10 largest employers closed shop, and it lost nearly 83,000 manufacturing jobs. The factories and breweries that remained had withered to a shadow of their former selves, with staffing to match. The city has yet to recover from the blow of deindustrialization; while many other midsize American cities have gained population in recent years, Milwaukee's continues to decline. It has been a rough few decades.
For the city's Black community, the half-century since the last Bucks win has been nothing short of catastrophic. Milwaukee is consistently ranked among the most segregated cities in the nation, and since 1979, its Black median household income has dropped by 30 percent, when adjusted for inflation. This has left the city's Black population "exceptionally impoverished," according to a 2020 study by Marc V. Levine at the University of Wisconsin-Milwaukee, which declared that the city "represents the archetype of modern-day metropolitan racial apartheid and inequality."
While the ugly reality of Milwaukee's racial landscape is hardly news to residents, the subject has been difficult to broach in the divided city. But in recent years, the Bucks have taken a vocal stand against the status quo — "Midwestern nice" sensibilities be damned.
In 2016 the Bucks' president, Peter Feigin — a native New Yorker — made national news when he bluntly described Milwaukee as "the most segregated, racist place" he had ever seen. "It just is a place that is antiquated," he reportedly told a Rotary Club gathering. "It is in desperate need of repair." He added, "One of our messages and one of our goals is to lead by example."
Tensions came to a head in January 2018, when a Bucks player, Sterling Brown, who is Black, was shocked with a stun gun and arrested by the Milwaukee police. He filed a police misconduct lawsuit against the city, which was recently settled.
And in 2019, the Bucks' shooting guard Malcolm Brogdon doubled down on Feigin's criticism. "I've never lived in a city this segregated," said Brogdon, who is Black, in an interview with The Guardian. "Milwaukee's very behind in terms of being progressive. There are things that need to change rapidly." (Shortly thereafter, he left Milwaukee to play point guard for the Indiana Pacers.)
If the Bucks have forced Milwaukeeans to take an uncomfortable look at the magnitude of their city's racism, the team has also served as a model for unified resistance.
Last summer, Antetokounmpo was among several Bucks players to march against anti-Black brutality after the killing of George Floyd by the Minneapolis police. The point guard Jrue Holiday redirected $5.5 million of his salary to social justice causes, Black-owned businesses and historically Black educational institutions.
And in August, after a police officer in neighboring Kenosha shot a Black man, Jacob Blake, seven times in front of three of his children, the Bucks refused to come out of their locker room at their next playoff game and released a joint statement calling for accountability and criminal justice reform. The move kicked off a wave of similar actions across professional sports teams.
On Tuesday, as the Bucks' parable of grit and determination unspooled, this divided city celebrated as one. In a place as fractured as Milwaukee, that counts for something.
"It shows us we can come together when we choose to," said Marcelia Nicholson, the chairwoman of the Milwaukee County Board of Supervisors, in a recent interview with The Milwaukee Journal Sentinel. "We just have to continue to find those common goals, those common principles."
A basketball win won't solve the city's problems. But it can become a catalyst for renewed investment in a more equal and united urban fabric. In the meantime, the Bucks and Antetokounmpo have given the world reason to root for an underdog city — as it learns to root for itself.