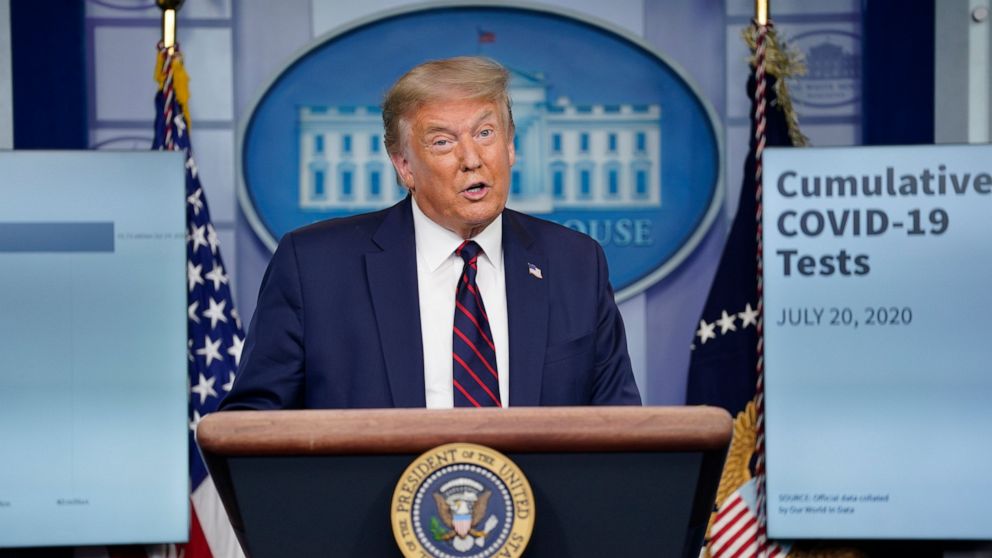 Dear Commons Community,
I watched President Trump yesterday as he held his first televised coronavirus briefing since he called them off in late April, just after he commented that we can drink bleach to clean the virus from our system.  He didn't make any idiotic statements and read from a carefully prepared script.  He acknowledged  that the coronavirus pandemic was growing more severe, that it will probably get worse before it gets better,  and endorsed mask wearing in a shift after weeks of playing down the seriousness of the crisis that has killed more than 140,000 Americans. 
Rather than just "embers" of the virus, as he has repeatedly characterized recent outbreaks afflicting much of the country, Mr. Trump conceded that there were now "big fires" across the South and West. He vowed to press a "relentless" campaign to curb the spread without offering any new specific plans for how to do so.  There are indeed big fires maybe better to characterize them as raging infernos in Florida, Texas and Arizona.  Here is a New York Times take on his briefing.
"The president's shift had its limits, however, as he again congratulated himself on his handling of the pandemic, admitted no missteps and made a number of specious claims. He included none of his public health experts in the briefing and falsely asserted that he had never resisted wearing a mask. And he contradicted his own press secretary, who had told reporters just hours earlier that the president was sometimes tested for the virus multiple times a day; in fact, he said, he has never been tested more than once in a single day.
But Mr. Trump was notably less dismissive about the pandemic, a reflection of the dawning realization within his team that the virus not only is not going away but has badly damaged his standing with the public heading into the election in November. Approval of his handling of the pandemic has fallen from 51 percent in late March to 38 percent last week in polling by The Washington Post and ABC News.
Former Vice President Joseph R. Biden Jr., the presumptive Democratic nominee who now leads Mr. Trump by double digits, has assailed him in recent days for ignoring a devastating threat to the United States.
On Monday, Mr. Biden said the president had "raised the white flag" in the fight against the virus. On Tuesday, he said the incumbent had failed to help working families hurt by the economic collapse.
"You know, he's quit on you, and he's quit on this country," Mr. Biden said as he released a plan for child and elder care. "But this election is not just about him. It's about us. It's about you. It's about what we'll do, what a president's supposed to do."
Mr. Trump's briefing was more tightly disciplined than the daily performances in March and April when he would talk for more than an hour, picking fights with governors and reporters and making ill-considered remarks like suggesting bleach as a treatment for the coronavirus. On Tuesday, he read from a prepared script, took fewer questions than in the past and ended the session in 27 minutes, shorter than all but one of the 50 briefings he did in the spring, according to Factba.se, which tracks his public appearances.
Advisers have urged him to be less combative, demonstrate more concern over the latest surge in infections and avoid straying into areas that have been counterproductive. Even so, the president wandered far afield when he offered supportive words to Ghislaine Maxwell, who was charged with luring underage girls into the orbit of the financier Jeffrey Epstein, who killed himself in August after he was charged with sex trafficking.
"I've met her numerous times over the years, especially since I lived in Palm Beach, and I guess they lived in Palm Beach," Mr. Trump said. "But I wish her well."
I found it curious and suspect that Trump did not invite to the briefing Dr. Anthony Fauci, the government's top infectious disease expert, or Dr. Deborah Birx, the White House coronavirus response coordinator. 
Tony