The bodies of Salvadoran migrant Oscar Alberto Martínez Ramírez and his nearly 2-year-old daughter Valeria lie on the bank of the Rio Grande in Matamoros, Mexico, on June 24, 2019, after they drowned trying to cross the river to Brownsville, Texas. Martinez' wife, Tania told Mexican authorities she watched her husband and child disappear in the strong current. (AP Photo/Julia Le Duc)
Dear Commons Community,
The Associated Press has just launched its News Photographs of the Year website.  It has a plethora of images presented in chronological order that reflect many of the most important stories and events in 2019.  Below is a sample  If you like news photographs, it is definitely worth a visit.
Tony
Flames and smoke rise from Notre Dame cathedral in Paris as firefighters tackle the blaze on April 15, 2019. (AP Photo/Michel Euler)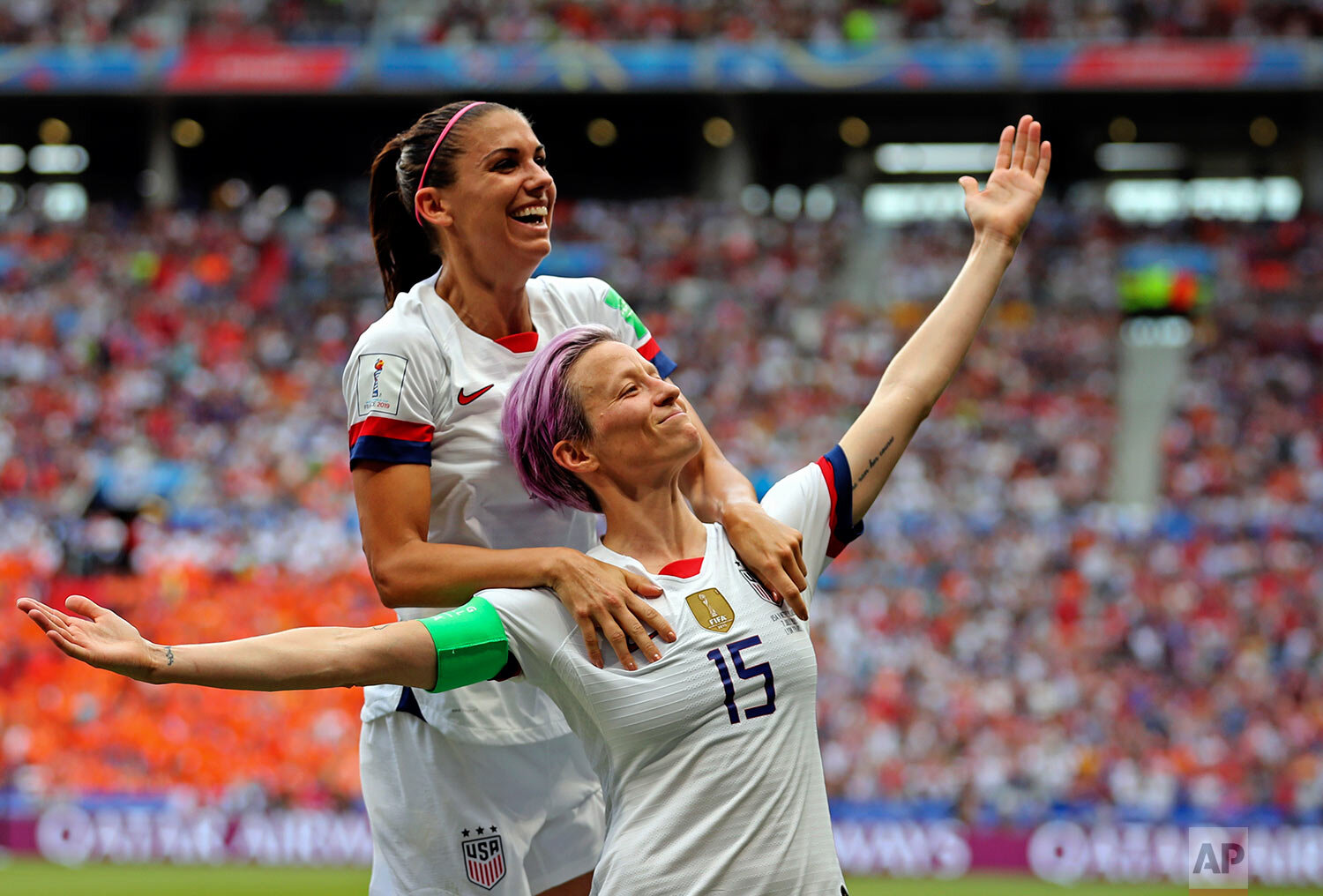 United States' Megan Rapinoe, right, celebrates with Alex Morgan after Rapinoe scored the opening goal from the penalty spot during the Women's World Cup final soccer match between the U.S. and The Netherlands at the Stade de Lyon in Decines, outside Lyon, France, on July 7, 2019. (AP Photo/Francisco Seco)
A bleeding man is taken away by policemen after he was attacked by protesters outside Kwai Chung police station in Hong Kong on July 31, 2019. (AP Photo/Vincent Yu)
A large Iceberg floats away as the sun sets near Kulusuk, Greenland, on Aug. 15, 2019. (AP Photo/Felipe Dana)
Firefighters battle the Marsh Fire near the town of Brentwood, Calif., in Contra Costa County, on Aug. 3, 2019. (AP Photo/Noah Berger)
Relatives of crash victims mourn at the scene where the Ethiopian Airlines Boeing 737 Max 8 passenger jet crashed shortly after takeoff, killing all 157 on board, near Bishoftu, Ethiopia, south-east of Addis Ababa, on March 14, 2019. (AP Photo/Mulugeta Ayene)
Simone Biles of the United States performs on the uneven bars during a warmup for the women's all-around final at the Gymnastics World Championships in Stuttgart, Germany, on Oct. 10, 2019. (AP Photo/Matthias Schrader)