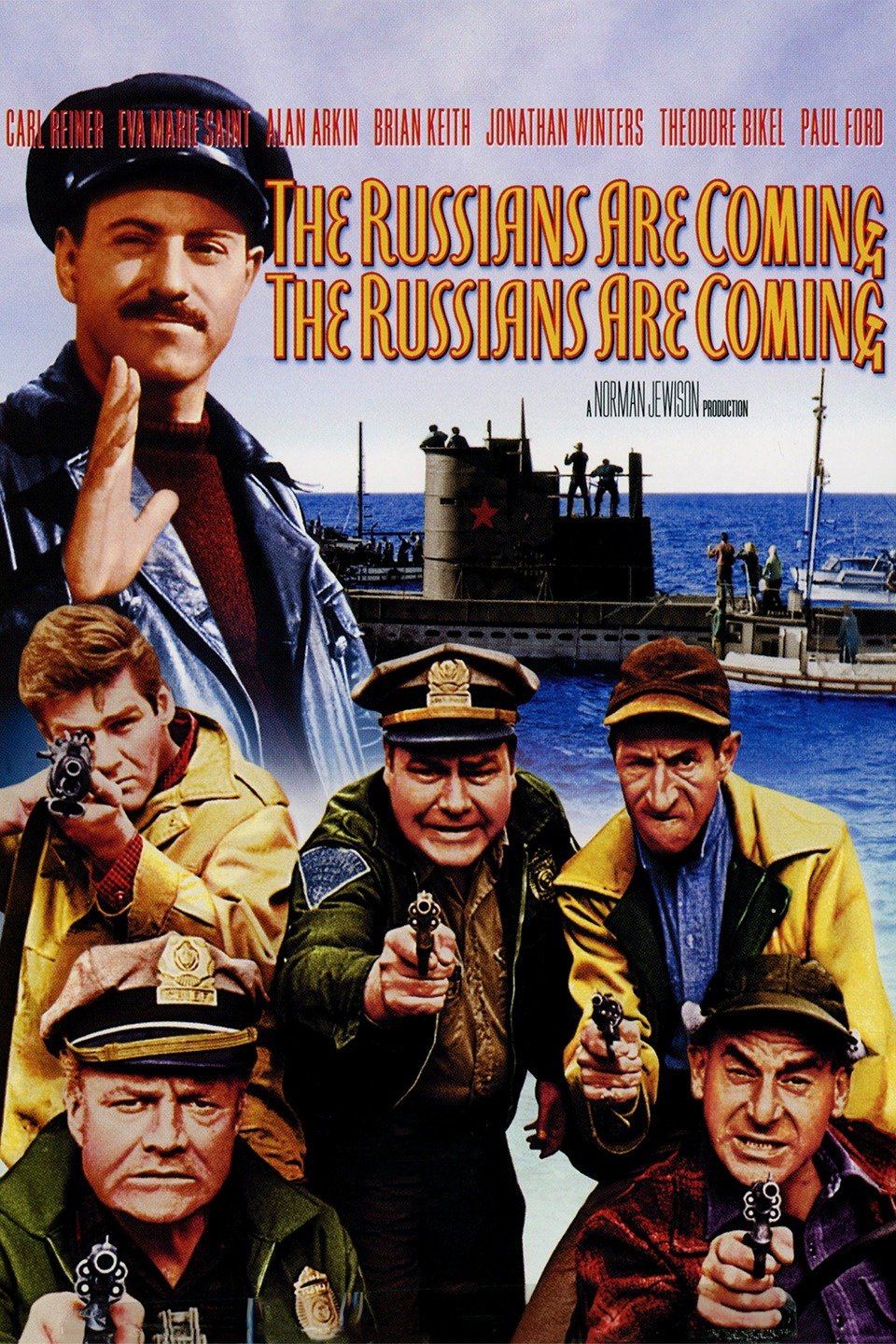 Dear Commons Community,
Donald Trump's campaign strategy has been reduced to bashing immigrants and blaming the Democrats for letting them into our country.  It reminds me of the panic scenes in the 1966 movie, The Russians Are Coming, The Russians Are Coming, about a Russian submarine that accidentally runs aground in New England.  The townsfolk panic and start developing all types of nutty schemes to ward off the "invasion."   Donald Trump has reduced this year's Republican campaign to the craziness in the movie.   As reported this morning in the New York Times:
"President Trump's closing argument is now clear: Build tent cities for migrants. End birthright citizenship. Fear the caravan. Send active-duty troops to the border. Refuse asylum.
Immigration has been the animating issue of the Trump presidency, and now — with the possibility that Republicans could face significant losses in the midterm elections on Tuesday — the president has fully embraced a dark, anti-immigrant message in the hope that stoking fear will motivate voters to reject Democrats.
In a rambling speech on Thursday afternoon that was riddled with falsehoods and vague promises to confront a "crisis" at the border, Mr. Trump used the official backdrop of the White House to step up his efforts to demonize a caravan of Central Americans that has been making its way through Mexico, assail Democrats, and promote a vision of a United States that would be better off with fewer immigrants.
The president said he had ordered troops to respond to any migrants in the caravan who throw rocks as if they were brandishing firearms, saying, "I told them: Consider it a rifle." He said his government had already begun to construct "massive cities of tents" to imprison legal and illegal immigrants who try to enter the United States.
 "This is a defense of our country," Mr. Trump declared from a lectern in the Roosevelt Room before leaving the White House to attend a campaign rally in Missouri. "We have no choice. We will defend our borders. We will defend our country."
The president also played fast and loose with the truth. At one point, he said that 97 percent of immigrants apprehended at the border and released into the United States do not show up for their trials; the number is closer to 28 percent. He also said the government is no longer releasing immigrants while they await trial. Meanwhile, migrants are being caught and released at the border regularly, as has happened for decades.
He repeated his oft-stated, misleading description of the situation south of the border, saying that "large, organized caravans" are heading toward the United States, filled with "tough people, in many cases."
"A lot of young men, strong men," he continued, "and a lot of men we maybe don't want in our country."
 "They have injured; they have attacked," he added.
In recent weeks, Mr. Trump has promised a number of actions to demonstrate a renewed crackdown on immigrants. While he has followed through on one of them — ordering an increase in military units on the border — there was no mention in the speech of the presidential proclamation on asylum and the new policy on family separation that he has promised.
Mostly what the president offered was a repeat of the angry rhetoric that has been a central theme of his campaign rallies and in Fox News interviews for the past two weeks.
Raising fears about immigrants has been a central theme for Mr. Trump since he first announced he was running for president. On Thursday night, in a chilly airplane hangar in Columbia, Mo., with Air Force One as his backdrop, Mr. Trump whipped thousands of supporters into a chorus of boos over the constitutional guarantee of birthright citizenship, dismissing a core tenet of the 14th Amendment as a "crazy, lunatic policy that we can end."
He warned that the Constitution's grant of citizenship to any person born on United States soil could benefit the offspring of "an enemy of our country" or "a dictator with war on your mind."
 "Democrats want to spend your money and give away your resources for the benefit of anyone but American citizens," he charged falsely, crystallizing his fear-mongering closing message: "If you don't want America to be overrun by masses of illegal immigrants and massive caravans, you better vote Republican."
In the past week, as a series of pipe bombs sent to prominent opponents of the president and then the killing of 11 people at a Pittsburgh synagogue dominated the news, the president's political team has urged him to put renewed emphasis on immigration and use his bully pulpit to ratchet up the nation's sense of alarm about the dangers of migrants heading for the border.
A spotlight on the people reshaping our politics. A conversation with voters across the country. And a guiding hand through the endless news cycle, telling you what you really need to know.
The president did not need much convincing. On Wednesday afternoon, he tweeted out a 53-second, expletive-filled video that features immigrants charged with violent crimes and images of a throng of brown-skinned men breaching a barrier and running forward. The president's message was clear: Immigrants will kill you, and the Democrats are to blame.
"It is outrageous what the Democrats are doing to our Country," Mr. Trump wrote in the tweet, part of a grim warning about the dangers of immigrants that has left some Republicans — including the House speaker, Paul D. Ryan — uneasy heading into Tuesday's voting."
It makes me wonder what this cowardly, bullying president would do if we faced a real foreign threat.  Panic, anyone?

Tony